KVM manufacturers to present their highlights for optimized IT infrastructures in control rooms
Every year, Integrated Systems Europe (ISE), the world's largest AV show, presents the industry's cutting-edge technologies, solutions and strategies. German KVM manufacturers Guntermann & Drunck will showcase their latest KVM solutions and their seamless integration into AV equipment at booth 5N500, 10 – 13 May 2022. The systems ensure the best possible system homogeneity and interoperability in control room installations.
By integrating a growing number of technologies, control rooms are becoming more complex and multifunctional. However, this complexity demands a lot from operators as well since they have to monitor several processes simultaneously and, at the same time, manage signals and workflows. To make the work of control room staff smarter and improve their working conditions, G&D, as pioneers in the KVM industry, develop highly reliable KVM products making the equipment in use more secure while also enhancing ergonomics.
PersonalWorkplace-Controller for flexible multi-viewing applications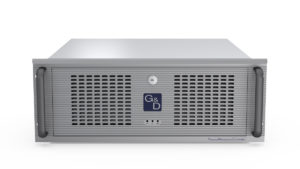 New to the portfolio and particularly exciting is the PersonalWorkplace-Controller. The multi-viewing tool makes it possible to display multiple video signals on just one monitor instead of having to use additional screens at a workstation. This allows users to create their own individual workspace with different computer sources and provides integrated and flexible access to all the data they need. Modified arrangements of operating processes also significantly improve workplace ergonomics. Displaying multiple computer sources in real time on one large monitor, and thus providing latency-free operation of multiple computers from a single console facilitates work processes immensely. In addition, the high image quality and unlimited flexibility in arranging sources provide great added value.
It is also possible to use the PersonalWorkplace-Controller to display the sources on a large video wall.
Expansion of KVM-over-IP™ product family
Together with a series of IP extenders, the ControlCenter-IP forms a powerful matrix, making it easy to grant any connected operator station access to any remote computer. While the network infrastructure takes over the transport of KVM-over-IP™ packets using network switches and routers, the ControlCenter-IP contributes the logic. Being able to use standard network components makes G&D's KVM-over-IP™ particularly interesting, because existing IT installations can be scaled more easily, flexibly and at lower costs. Almost all components are plug & play devices, adding to the ease of installation and operation.
With the new ControlCenter-IP-XS, the KVM-over-IP family has become even bigger. The device has been designed for basic installations with up to 20 end devices. In a network, the central module takes over the logic, ensures that all devices can access each other, and switches between console modules and computer modules. It also provides many helpful control room features such as scenario switching, push-get for optimal collaboration and the integration of video walls, and CrossDisplay-Switching for absolutely intuitive operation of multi-monitor workstations. The device comes in a compact and space-saving housing. As an entry-level version of the ControlCenter-IP, it can be combined with different modules of the KVM-over-IP product family.
Smaller, more compact, more powerful – the new VisionXS
Another development in an XS format is the new VisionXS extender line. With 10G data transmission technology for an even better user experience and resolutions up to 4K, VisionXS combines great functionality and performance in a small housing. For this series, the manufacturers also rely on their proven, lossless bluedec™ compression, which enables authentic, pixel-perfect video experiences.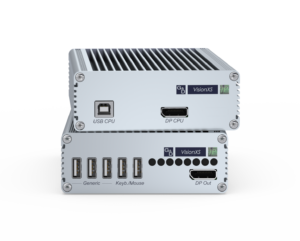 One of the highlights of the new VisionXS is the integrated "IP-MUX" switch functionality. The function allows a console device to manage multiple target IP addresses from up to 20 computer sources without requiring additional hardware. For simpler applications, the on-screen display can be used to switch to the different sources. The advantages: low effort, fewer devices, smart application.
Like any other G&D product, the new devices are fully compatible with existing models. The extensive combinability of the KVM systems ensures solutions that are suitable for all applications. This makes it even easier to plan and expand installations, even at a later date.
Control Rooms Summit at ISE
"We continue to observe the trend that AV installations are becoming larger and more interconnected. This requires the systems to be even more reliable and powerful," explains Jochen Bauer, Head of Sales, who keeps his finger on the pulse when it comes to KVM. G&D will not only offer their KVM expertise at their booth, but also at the Control Rooms Summit, an event that is part of ISE, which the company will also be sponsoring.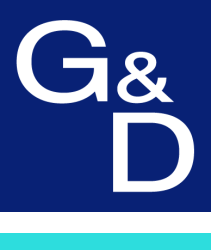 Latest posts by Guntermann & Drunck
(see all)