Best practice: Cyviz and G&D
Given the advancing digitalization of corporate processes in many industries, the question of what the control room of the future will look like is increasingly taking center stage. Digital production and processes already generate a high volume of data that has to be managed, monitored and evaluated. There is, therefore, a demand for a new generation of dynamic, IT-based control rooms. These need to be intelligently networked with a diverse range of systems and also ensure a seamless integration of multiple technologies and systems. Through the use of well-thought-out concepts for optimal interactivity and intuitive operation, such rooms will be able to further facilitate collaboration between team members.
KVM – the backbone of IT infrastructure
In light of these complex requirements, KVM helps by relocating computer systems to centralized server rooms. It also contributes to the harmonization of access and provides flexible, intuitive control of multiple systems across one or more simultaneous workstations – in real time and with the best possible image quality. KVM thereby serves as the backbone of IT infrastructure and enables highly agile concepts for control room management and control of the effective heart of any such room; the video wall.
Dynamic control rooms – challenges and opportunities
In its work as a global technology provider, the Norwegian company Cyviz develops concepts for dynamic control rooms, and collaborates closely with G&D in the process. There are several challenges to overcome when developing and planning such concepts, in which multiple technologies and systems need to interact seamlessly:
Driving the digitalization of corporate processes
Updating aging control room infrastructures
Establishing dynamic IT infrastructure that is flexible and scalable
Creating well-thought-out control room concepts for optimal interaction and intuitive operation
Ensuring seamless integration and interaction of multiple technologies and systems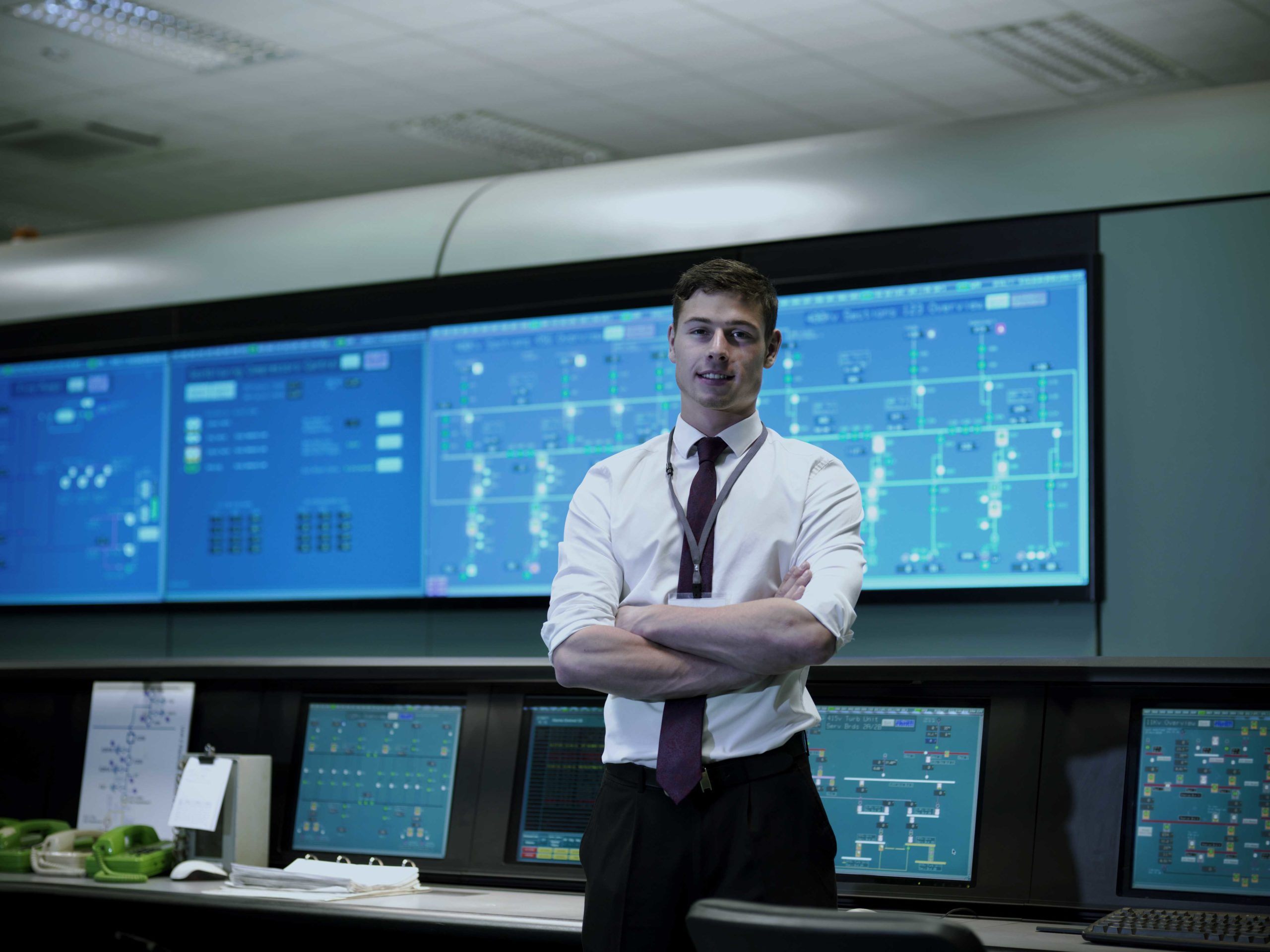 Once the challenges have been met and the concepts implemented in real control room environments, these provide a number of advantages for control room workers:
Seamless IT integration into corporate processes, which advances digitalization processes
A high level of interoperability thanks to the dovetailing of all systems used
Perfect integration of workstations and video walls through the use of a video wall controller
Technology that supports agile working concepts and innovative thinking
Intuitive operation and interaction
Best practice: Cyviz and G&D collaborate in the ControlCenter-Xperience
At the heart of every control room is a video wall for monitoring processes, controlling systems, visualizing data and so on. But how can this video wall be integrated into the spatially remote computing environment? To find out, let's take a closer look at G&D's demonstration control room, the ControlCenter-Xperience (CCX):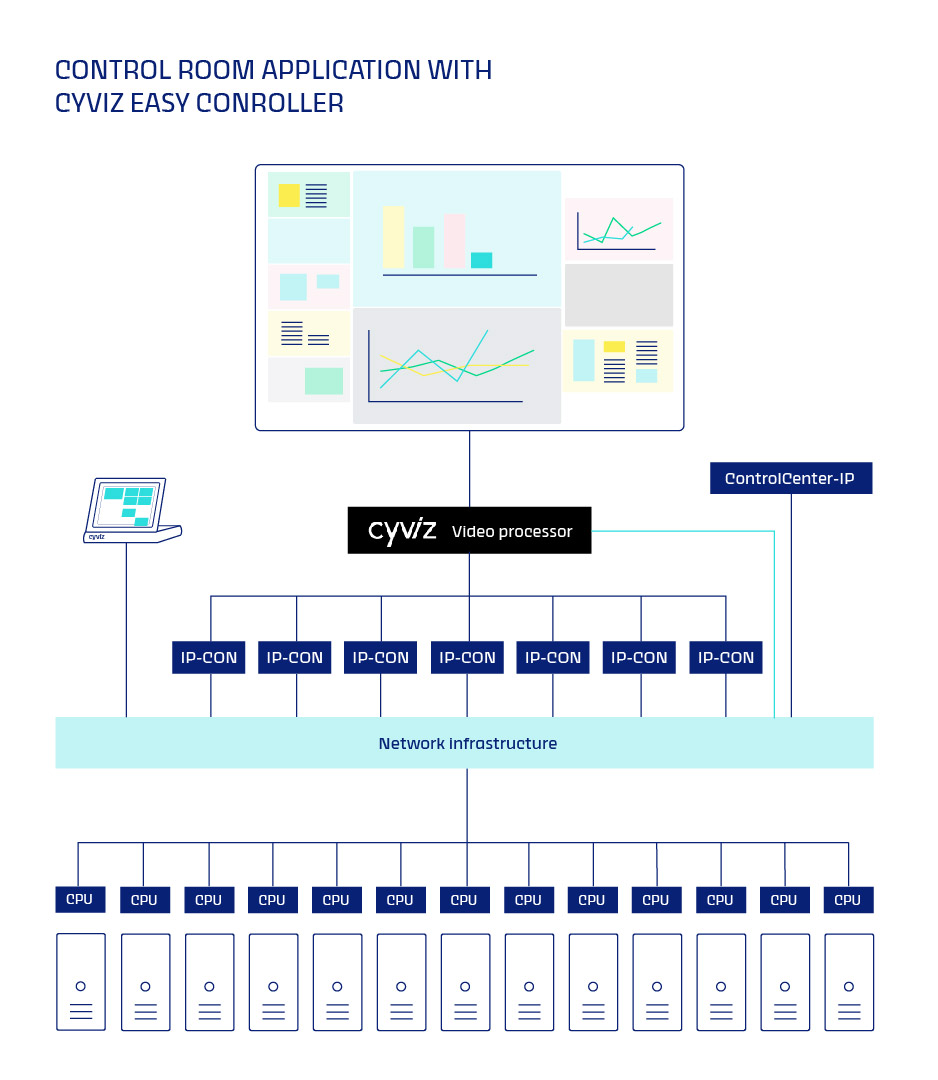 The interplay of diverse systems and technologies is evident in a permanent CCX control room environment. All computers are located in secure server cabinets and are operated remotely via KVM without latency. The chosen content sources are flexibly switched to controller workstations as well as to the video wall through the KVM matrix system. Cyviz's video controller technology plays a central role here. The flexibly configurable Cyviz Easy Controller facilitates operation, content display and system control. The Easy Controller serves as a central interface that allows users to control and update their video wall.
Control room employees can manage all control room functions using the Cyviz Easy Controller software installed on the Touch Controller unit. Everything that is selected on the touch panel is simultaneously displayed on the video wall. The touch panel user interface is integrated into the KVM system via G&D's IP Control API and informs the matrix of the selected switching process.
Spotlight: Cyviz Easy Controller
Users can add any number of content sources to their display via the touch panel's configuration interface. They can immediately see which targets (CPU) are connected and which are still available.
The pinch-to-zoom function enables resizing and zooming into a video feed as well as sharing with other participants.
Each image (PiP – Picture in Picture) on the touch panel represents a KVM console (CON). The layout of the PiPs is flexible. Once the sources to be switched have been selected, the Cyviz video controller informs the KVM matrix of the switching processes, and this then switches the remote servers.
The Cyviz video processor serves as the central multiviewing unit and is connected to the KVM consoles (CONs) via input port. Conversely, the output ports are connected to the video wall to display the chosen content.
With the help of predefined presets, recurring scenarios (day and night shift, crisis scenarios, etc.) can be configured and called up at the touch of a button.
What makes KVM systems so powerful?
KVM systems are part of control room infrastructure and create homogeneous application networks. They offer an optimal basis for the seamless dovetailing of all systems in use, and seamless IT integration in corporate processes. In other words, KVM enables the visualization, control and monitoring of complex processes and networks of different applications. Through KVM, signals from the relocated servers and other systems for video wall control and surveillance, input devices, emergency call systems, etc. are accessible in real time in a remote control room environment. This means that control room workers have the right technology at their fingertips at all times.
Cyviz and G&D control room concept at a glance
Well-designed control room concepts for optimal interaction and collaboration
Intuitive operation and user-friendly control room features
Extensive flexibility in application
Optimal interoperability: Seamless integration of workstations and video walls thanks to "talking" API
Invisible technology: While KVM is invisible to the user, it significantly contributes to the flexibility of the overall IT infrastructure
Powerful, built to last, resilient and operational 24/7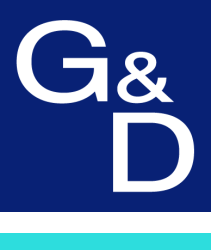 Latest posts by Guntermann & Drunck
(see all)