Have you ever piloted a drone? Then you surely know the queasy feeling when the small flying object is almost out of sight and you can only hope that it will return unharmed. Now imagine what it would be like to conduct the entire flight operations of an airport completely without direct visual contact. Sounds impossible? Think again. Because this is precisely what has already become part of everyday life for the air traffic controllers working in HungaroControl's Remote Tower in Budapest. Find out more about how exactly this works and what role KVM plays here.
More and more airports, especially smaller ones, are relying on a Remote Tower concept. Here in particular, air traffic can be managed more intelligently and economically – without controllers having to tread water. With its remote tower concept and around 100,000 flight movements per year, Budapest airport is one of the first European airports that can be controlled remotely. The controllers are supported by state-of-the-art camera infrastructures that provide real-time images and a 360-degree view of the airport apron.
Everything in sight – even from afar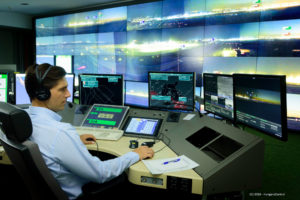 Now, Air Traffic Controllers (ATCOs) monitor ground, landing and departure movements without direct line-of-sight from one of the most advanced remote flight monitoring centers in Europe. Originally, HungaroControl was located in the Budapest airport tower. But since both the tower and the technology installed in it were becoming outdated, an entirely new control system, independent of the airport itself and thus operated by HungaroControl, had to be set up for flight operations.
Remote Tower goes on air
So the search was on for a high-performance solution that could safely and reliably guide aircraft through the descent, landing and departure phases and take advantage of satellite-based arrival and departure procedures. All of this was implemented with the help of a remote tower concept. In a remote control room, new, modern and more efficient workstations improve the workflow. This approach also made it possible to precisely implement the high requirements for redundancy, security, productivity and optimized maintenance.
Ready for take-off
Hungary's remote tower concept is based on the integration of a brand new A-SMGCS ground monitoring system and a camera network installed at several locations at the airport. Around the clock, cutting-edge thermal cameras are transmitting video feeds to four video wall servers. Using a ControlCenter-Digital KVM matrix, the feeds are displayed on the control room video wall. This way, the airport apron and runways are always visualized. A video wall consisting of 32 screens does not only provide ATCOs with comprehensive visual information, but also offers an overview of the entire airport. A mirrored, redundant video wall server system can be accessed via KVM matrix simply by pressing a button. This way, the entire airport apron can still be monitored, even in case of a fault.
A look inside the Remote Tower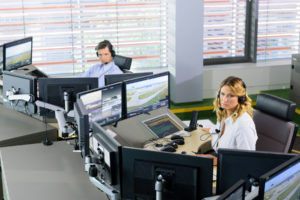 The remote tower control room of the Hungarian air traffic control includes five controller working positions, each accessing several computers. A part of the computer equipment has been moved to an air-conditioned and secure server room and is also made available at the workstations via the KVM matrix switch ControlCenter-Digital. Thanks to DVI-CON console modules, operators can access the remote computers as if they were still placed at the controller table.
The invisible wingman
What sounds self-evident and intuitive to use is only made possible by the KVM equipment running in the background. KVM systems relieve air traffic controllers of their work without being perceived by them – like an invisible wingman behind the scenes.
But not only the video wall servers and control computers were built redundantly in the remote tower in Budapest. A second, completely mirrored matrix switch ControlCenter-Digital automatically backs up the installation if, in the event of a fault, the other matrix fails. This fully redundant system therefore ensures that all controllers can continue their work as usual.
Preventive health management
The SNMP monitoring of the operating conditions of all KVM components ensures the automatic switching between main and redundant computer. The monitored values are sent as SNMP trap and are then made available to the technical personnel.
Making the impossible possible
With this new concept, ATCOs benefit from decisive advantages in their daily work:
A fully redundant system guarantees maximum reliability and availability of all systems
Much less noise and waste heat emissions
Efficient, ergonomic and user-friendly workflows
Maintenance and configuration of systems in a separate area, without interrupting the work of ATCOs
Whether arrival, departure or managing ground traffic – for every flight movement, G&D's KVM equipment supports ATCOs without them even noticing. Instead, they can fully concentrate on their responsible tasks.
So the next time you're worried about the well-being of your drone, think about the controllers at Budapest Airport who make the impossible possible – every day. With that in mind, controlling your drone will also seem much easier.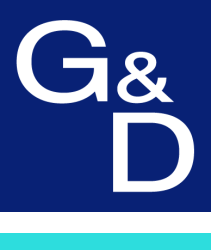 Latest posts by Guntermann & Drunck
(see all)