Do you remember the last time you've met us on an actual trade show? Honestly – neither do we. For too long, our trade show racks have been sitting dusty in the equipment room, waiting to travel the world again. And even though our event team has not yet gathered dust, we are very happy to get out and be able to welcome you at three events.
Orlando, Madrid, Amsterdam – back on the road
Even if it will still take a while until we get back to normal, we are at least back on the road. With stops at InfoComm in Orlando, the World ATM Congress in Madrid, and IBC in Amsterdam, our team is back on the trade show track to finally present G&D's new KVM devices live again.
What to expect
You should definitely not miss the new VisionXS KVM extender. The powerful, pocket-sized multifunction tool is not only smaller and saves more space than comparable products. In addition to its size, it also impresses with even better performance and video quality. Naturally, the mini all-rounder is compatible with all G&D products, making it easy to integrate into existing and future installations.

On top of this, we will show you how to use the RemoteAccess-CPU to seamlessly integrate virtual machines into KVM matrix installations.
Security first with G&D's RemoteAccess-GATE
Even though Corona regulations are currently being eased in many countries, many people still and will probably continue to work from home. Using the RemoteAccess-GATE, they can easily access remote computers or entire KVM systems via LAN, WAN or the Internet.
Equipment especially tailored to Air Traffic Control – live at the World World ATM Congress
In addition to IP-based equipment, we will also be exhibiting classic KVM products specifically designed to meet the requirements of air traffic control at the World ATM Congress in Madrid. With the powerful KVM switch DP1.2-MUX3-ATC, ATCOs can operate up to three computers from one console without any interruptions during the switching process.
At our booth, you will also see a multi-viewing console showing you how KVM makes the work of air traffic controllers easier and more flexible. Instead of displaying information on multiple screens, the trend in ATC control rooms goes to using one large monitor. With the help of KVM systems, controllers get all the data they need from various computer sources at a glance and with absolutely no latency.
G&D in a fresh look that simply feels right
We also used our time away from the road to give G&D a new, fresh look you will notice when visiting our booths. In addition to the new "Feels right" communication concept and a new color scheme, we will soon be presenting our company on a completely new website. Of course, you'll be the first to know when it's ready. GDNA KVM expert Don Hosmer is also excited about the communication concept: "Choosing G&D feels right in every way, and that's what we want our new communication concept to convey."
KVM insights from a KVM expert
Visitors to the World ATM Congress will not only be able to get information on KVM in air traffic control at our booth. On the very first day of the event, Jochen Bauer, G&D Marketing and Sales Manager, will be giving a presentation on cyber security in which he will show how KVM helps secure complex IT installations through comprehensive redundancy concepts.
We look forward to meeting you again
Long story short: We are excited to meeting you again. Because personal contact and discussions with you simply feel right to us. And to make sure you don't miss us, here's an overview of all the dates we just mentioned:
InfoComm
When: 27-29 October 2021
Where: Orlando, FL
World ATM Congress
When: 26-28 October 2021
Where: Madrid, Spain
G&D booth: 433
Lecture: "Aviation Safety and Increased Cyber Security: How KVM supports the shift towards more automated ANS"
Speaker: Jochen Bauer
Date: 26.10.2021
Time: 5:15 p.m. – 5:35 p.m.
IBC 2021
When: 03-06 December 2021
Where: Amsterdam, The Netherlands
G&D booth: 8.B81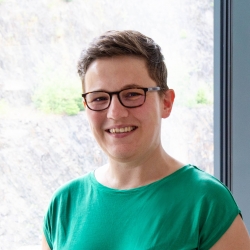 Latest posts by Bianca Schmidt
(see all)