Not only since Corona has it been often necessary to interconnect different sites. Especially users or IT administrators need to be able to access and administer computers from anywhere, ideally even down to BIOS level. But at this point, access and maintenance quickly become tricky or even impossible. For these, and many other applications, we now offer the new RemoteAccess-GATE.
What is the RemoteAccess-GATE?
As a stand-alone device, the RemoteAccess-GATE helps you to remotely control individual computers or even entire KVM systems via LAN, WAN and the Internet. In this context, GATE stands for Global Access to Enterprise and thus for worldwide access to your KVM devices down to BIOS level – without having to install any software on the source computers.
How does the RemoteAccess-GATE work?
But how does remote access to computers using the RemoteAccess-GATE work? Web clients help you to connect to the GATE via the Internet, WAN or LAN. This allows you to securely access the connected computers and KVM devices remotely. Use the following web clients for the best result:
HKC (HTML KVM Client) –
Independent of any operating system, Java-free; default client
AKC (Active KVM Client) –
Windows without Java;
can only be used with the Internet Explorer or the Edge Legacy browser (click-once application)
VKC (Virtual KVM Client) –
Windows, Linux or macOS with Java 1.8 (no OpenJDK)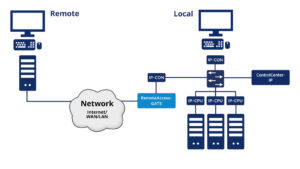 In our example, you use an IP console connected to the device to connect not only to a single computer, but to the entire KVM system. In other applications, it is possible to connect via any other device such as a classic matrix, a switch, an extender – or even via a single computer. Additionally, up to eight users can connect to the system simultaneously.
Depending on why you want to access the remote computer, you can adjust the bandwidth via the RemoteAccess-GATE. For example, if you don't want to operate a video server, you can simply reduce the bandwidth.
What resolutions and signals does the device support?
The RemoteAccess-GATE supports 4K and Ultra-HD resolutions at 30Hz with a 4:2:2 sampling rate as well as HD resolutions up to 1920 × 1200 at 60Hz with a 4:4:4 colour depth. The device uses HDMI video signals and embedded HDMI audio (digital). You can also transfer other signals, such as VGA, DVI, Mini DisplayPort and USB-C, via adapters.
With the help of additional hardware, you can also transfer USB data from a remote console to a local computer.
And what about security?
Of course, security plays an important role especially when accessing computers remotely. But even in this regard, the RemoteAccess-GATE has a lot to offer. Security features include:
AES encryption,
LDAP,
Active Directory and RADIUS directory server integration,
User and group privileges,
IP access controls,
Login limitations,
KVM session encryption,
SSL certificates,
Configurable security banner,
Audit log,
SNMP/Syslog event logging and notifications,
and strong passwords.
Dial-up demo
Discover the new G&D RemoteAccess-GATE via dial-up demo and learn more about the functionality and performance of the stand-alone device.
Using the demo system, you can try out and get to know the RemoteAccess-GATE for worldwide access to your KVM systems. Contact us and we will be happy to send you the access data!
In the KitPlus interview, our Head of Marketing and Sales talks about the benefits and features of the new RemoteAccess-GATE.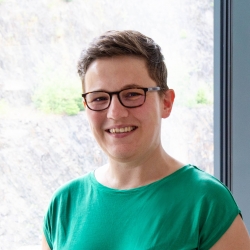 Latest posts by Bianca Schmidt
(see all)