If you followed our blog from the beginning, you already read about our trade shows, products and different applications. But who are the people behind our products? Those making sure our products are developed and work they way they're supposed to work. In a new series of posts we will introduce those Gyro Gearlooses. Today, we start with Ullrich Marcus from our test department. Thanks to his long experience in testing devices, even the smallest error doesn't stand a chance against him:
I found the first error back in 1966, I first found an error in a mechanical typewriter. The "test instructions" of said typewriter consisted of one sentence containing all letters of the alphabet. If the sentence could be typed in straight letters, the test was finished. Now test instructions of DVI matrix switches have more than 200 pages. And it is my task to find all errors, before the devices are produced.
Always one step ahead of errors
After computers became more popular and the search for errors more interesting, it was time for me to start my "second life". In 1990, I started working at G&D. The first 15 years, I earned my spurs by being part of the sales force and found and most importantly got rid of errors. This was both interesting but also exhausting especially when combined with travels. But in hindsight that's were I had the chance to visit the most interesting companies and people (I remember, for example, being in Sweden, understanding neither Swedish nor English but being able to find and get rid of the error – SAS still flies to this day).
Nowadays my job has become less hectic. Each day my aim is finding at least one error. And during the first days of testing a product, that's rather easy. But when samples become more stable, finding errors is like looking for a needle in a haystack. Any errors are documented in the internal JIRA system where they are described as accurately as possible and assigned to the developer in charge. The developer tries to reproduce the error. Sometimes my office is packed with a group of developers trying to locate an error with their ultramodern measurement technology. When I first started working at G&D, we had only one developer (Hi Kaw!) – now it's a room full of young committed engineers.
Beware errors – your days are numbered
I've always imagined errors as being tiny, nasty, green things sitting on an IC. Now it's often a bit in the program sequence. Since the hardware team mostly only sorts and aligns bits with the FPGA, properly working programs are the key to reliable KVM switches.
Tests, which by the way often take several weeks of time, consist of the obligatory and the creative part. The first part of the test consists of mainly repetitive and reproducible processes. In the creative part, however, we combine all kinds of G&D devices. But when it comes to combining products, our customers never cease to amaze us with their ideas. And that's exactly what we need to test beforehand. Thanks to those challenges, my work never gets boring. Dear errors – beware! Your days are numbered!
By Ullrich Marcus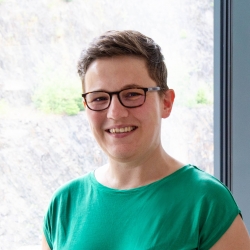 Latest posts by Bianca Schmidt
(see all)