By Martina Ruseva/Sabrina Keller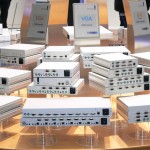 After our KVM wingman already told you about his adventures at ATC Global, we would like to take a look back at CeBIT where we presented our broad portfolio of KVM extenders, KVM switches and KVM matrix switches. The digital matrix system DVICenter DPxx proved to be a special eyecatcher. With the recently implemented feature allowing you to switch USB 2.0 signals fast and without any troubles, the matrix switch knew how to impress our visitors.
From control centres in the paper industry and banks to simulations for Ground Traffic Control and Air Traffic Control in towers up to TV stations – the background of our visitors couldn't be more different. And even the youngest member of the DVICenter family – the DVICenter DP16 – already knew the requirements of the different fields of application and was extremely well-received.
Managing Trust – made by G&D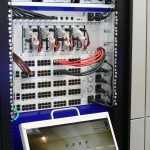 The security of data systems plays a major role for many of you. It would be quite inconvenient if the live broadcast of a football match would be interrupted right before an important goal. And in other cases, this would even put a lot of lives in danger for example if the screens in air traffic control suddenly turn blank. But even in this regard G&D's devices knew how to score: when developing our products, security comes first. That's why we implemented security features like active monitoring and SNMP. Now you can keep track of all devices and the connected peripherals. Additionally, redundant components help preventing system failures.
Organised down to the smallest detail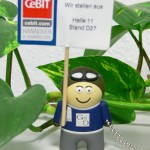 What seems to be a short exhibition week actually requires months of planning. Today, we already think about the CeBIT 2013. The fact that this year CeBIT and ATC Global took part in the same week didn't make our planning any easier. Now we were faced with the task to build two stands, put together  and coordinate two teams and last but not least carry on with our daily work with a staff reduced by almost 20%. And guess what: we've made it 🙂
To keep the exhibition teams entertained, our KVM wingman Sully joined both of them. The real wingman (we all know that there can be only one!) supported the ATC team in Amstedam while his little brother, dressed up as a USB stick, helped the CeBIT team gaining sympathy points.
In retrospect
…we couldn't be happier about the way the last week went for us. We had the chance to meet many new partners and customers, which made our efforts worthwhile. CeBIT 2013 – here we come, because, as mentioned above, we're always ahead of the next exhibition.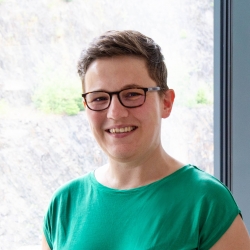 Latest posts by Bianca Schmidt
(see all)