Sometimes less is more: our new high-end extender product series, VisionXS comes with a small housing and big performance. Following the motto "smaller, more compact, more powerful", we developed a new compact multipurpose KVM tool. The new VisionXS systems are matrix-compatible KVM extenders, which are available as variants for classic transmission or KVM-over-IP™. Users can expect the best video quality, even better performance and a range of high-performance features.
The VisionXS-IP uses standard networks at up to 10Gbps, unlike previous models. It opens up a new dimension of possibilities, especially for scene-rich video and frequently changing image content, as significantly less compression is needed and your user experience is improved many times over.

In addition to the already available DP-UHR variants for resolutions up to 4096 × 2160 @ 60 Hz, our product range is now complemented by the new DP-HR variants for resolutions up to 2560 × 1600 @ 60 Hz. For this series, we also rely on our proven, lossless compression bluedec™, which enables authentic, pixel-perfect video experiences.
Small and compact
The name says it all: For the VisionXS series, all modules come in a small and space-saving design. The products can also be used in applications where space is a critical factor, thanks to their significantly smaller size. In addition, the innovative mounting solutions result in simple and fast installations. As slide-in elements are being used, the new DeviceCarrier requires less screwing.
Integrated switch functionality
One of the highlights of our new VisionXS is the integrated "IP-MUX" feature. With this function, one console manages several target IP addresses of up to 20 computer sources without the need for additional hardware. To switch to different sources for simple applications, you can use the on-screen display. The advantages: low effort, fewer devices, smart application. As a customer with higher application requirements, you can use the KVM-over-IP matrix system ControlCenter-IP to enable instant switching, since the switching process is not seamless in the IP-MUX application due to security measures such as VPN setup and encryption structure.
Safety feature transmission redundancy
Each device is equipped with two transmission ports as an additional safety feature. This enables fast switching to the fallback transmission line. You do not need any additional hardware to use the transmission redundancy, because you can enable the second port via software key – even at a later date. If the product is connected to the KVM network via both transmission ports, it will automatically switch between both transmission interfaces as soon as the previous connection is interrupted, thanks to link aggregation.
Dual-head for better ergonomics and more flexibility
The VisionXS-DP-HR- and VisionXS-IP-DP-HR variants will also be available with two display port connectors for multi-monitor applications. This makes it possible to operate up to two monitors at the same time while saving cabling effort and additional hardware by using only one transmission port. On the user side, the new option ensures better ergonomics and greater flexibility at workstations. The new VisionXS dualhead variants support resolutions up to 4096 × 2160 at 30 Hz on the primary video channel and up to 1920 × 1200 at 60 Hz on the secondary video channel.
Simplified installation with PoE variants
Our VisionXS-IP portfolio continues to grow, with new variants supporting Power-over-Ethernet (PoE). The new feature makes it possible to supply power to the device using the transmission port. This not only reduces the planning and installation effort, the extender can also be secured twice against failures: The device is connected via both the main power supply and the network cable, providing redundancy in case one power supply fails. This guarantees maximum operational safety and reliability during continuous operation.
Universal compatibility enables a high degree of flexibility
An important advantage of VisionXS extenders is the ability to combine them with our matrix systems. This means even more flexibility because VisionXS products offer two options for operation. You can operate them in pairs as an extender line or integrate them into matrix installations. Thus, users will also have one hardware for everything in the future. Like any other product made by us, the new devices are fully compatible with existing models. The extensive combinability of the KVM systems ensures solutions that are suitable for all applications. This makes it even easier to plan and expand installations, even at a later date.
With these powerful expansions to the portfolio, we cater to the growing complexity of KVM applications by providing a smaller solution with a large selection of powerful features. You always have the best possible solutions right at hand, thanks to versatile KVM products that you can combine and consider the application, existing IT structures, and project requirements.
For more information, please visit our website, www.gdsys.com.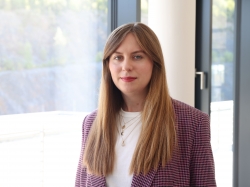 Latest posts by Linda Hartmann
(see all)