In recent years, IP has become increasingly important in all areas of life. Especially control room applications benefit greatly from the use of IP. Being able to use existing cabling, switches and routers does not only save costs – it also provides flexibility and simplification through central administration. But does this mean that classic KVM systems are losing importance? Not at all! However, depending on the application, it may be worth comparing classic KVM systems with KVM-over-IP.
Classic, dedicated KVM systems
Classic KVM systems use standard connection cables such as CAT 5e, CAT 6 or CAT 7 twisted pair cables or single- or multi-mode optical fibres. Solutions are available for 1 Gbit/s, 2.5 Gbit/s and 10 Gbit/s. Thanks to the standard connection technology, you can continue to use any existing cabling or even expand it. However, we recommend that you set up a separate network for KVM systems. The advantage? The network makes full use of the bandwidth as the cable transports only KVM data packets.
Typical application: classic KVM
In the exemplary application below, the computers are stored in an air-conditioned equipment room. A KVM matrix system lets users operate multiple computers from different workstations. Dedicated twisted pair cables or optical fibers integrate the remote workplaces (equipped with CON user modules) into the operational concept, thus allowing users to access all computers. The KVM matrix extends and switches the computer signals in real time, latency-free and without loss of image quality.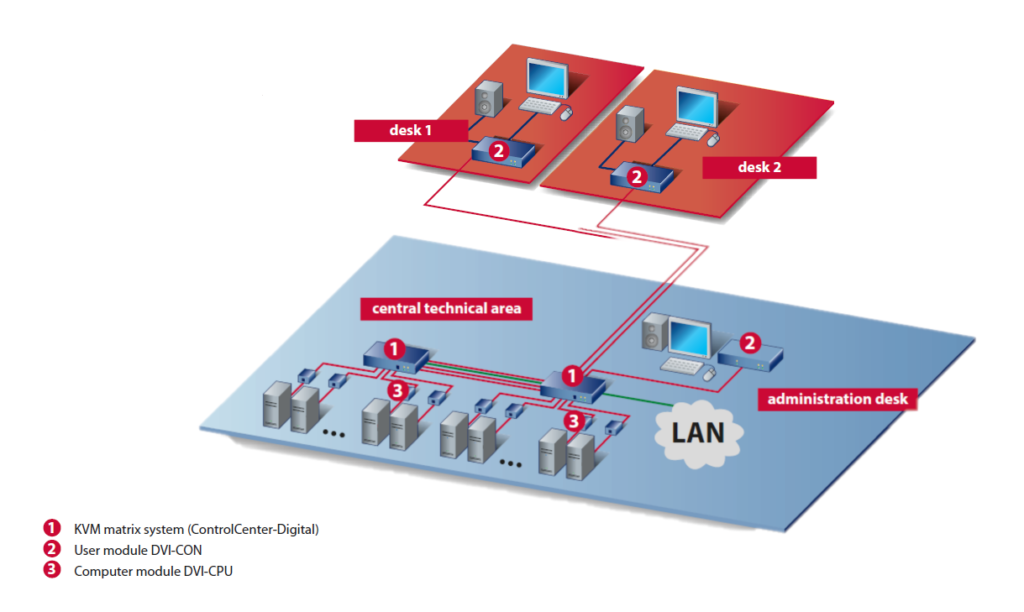 Overview: classic KVM
Optimum use of maximum bandwidths, as there are no other network-compatible devices requiring bandwidth
Total control of the medium provides access security
Dedicated connections and proprietary transmission increase data security
For smaller networks, classic KVM can be more cost-effective than KVM-over-IP
Plug & play-capable and easier to handle for IT admins
Highest efficiency and performance, as no loss of bandwidth for IP overhead
KVM-over-IP – advantages and challenges
IP-based structures provide many advantages, but also pose some challenges. A big advantage: IP networks are becoming increasingly powerful. Installations with 10 Gbit, 40 Gbit or even 100 Gbit bandwidth are no longer exceptions. This allows you to easily scale IT installations and implement them over IP. Therefore, KVM-over-IP seems to be the next logical step for IT-supported structures.
However, the situation is different if the existing network technology provides only a low data transfer rate. For existing infrastructures with a smaller bandwidth, you can bundle several KVM devices and the bandwidth per route to approx. 300 to 500 Mbit. This way, even a network with limited uplinks on a 1 GBit basis can be sufficient to operate small KVM installations over IP.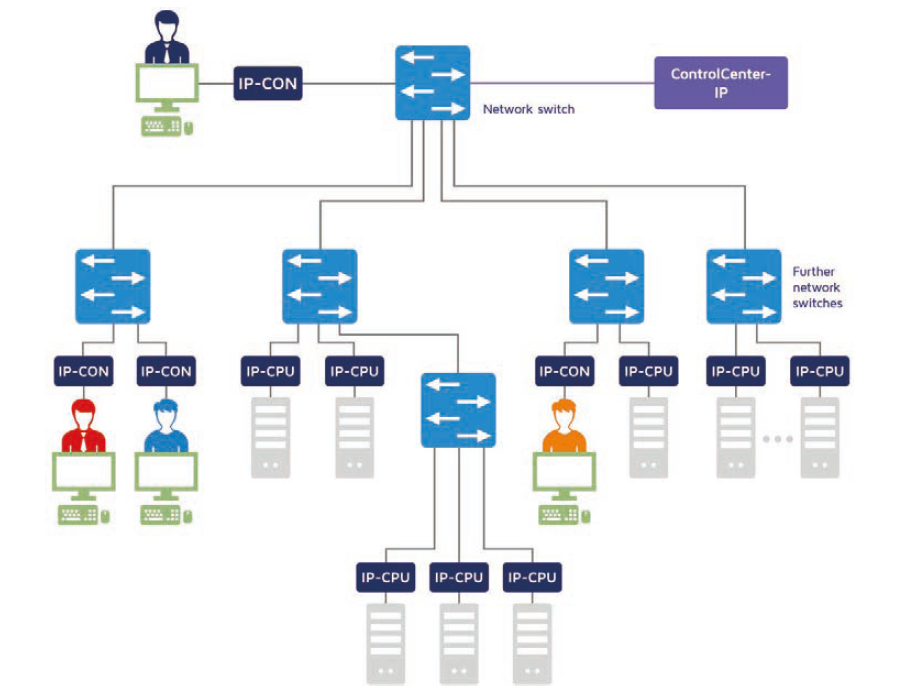 Another advantage of IP-based structures: IP networks are duplex-capable. Therefore, the cabling can be used in both directions when transmitting KVM packets. This makes the network even more flexible, so that you can save cables and ports in installations in which you want to connect two company buildings.
KVM-over-IP at G&D
Our portfolio includes solutions for both original KVM and KVM-over-IP. With the new matrix for KVM-over-IP™, we are responding to the KVM sector's growing demand for IP solutions. Together with a series of IP extenders, the ControlCenter-IP forms a powerful matrix with which any connected operator station can be granted access to any remote computer. While the network infrastructure takes over the transport of KVM-over-IP using network switches and routers, the ControlCenter-IP contributes the logic. Transmission takes place compressed via CAT cabling or optical fibers via standard IP-based networks on layer 3, with a data transmission rate of 1 Gbit/s per line.
Overview: KVM-over-IP
Easy to scale through use of standard network components
Standardized network technology by integrating KVM components into the existing infrastructure
Powerful technology with high bandwidths
Upgrade of backbones, e.g. to 40 Gbit/s, possible at any time
Network is duplex capable, so both directions of cabling are usable for KVM (especially video), making the system more flexible
Almost completely plug & play
IT administrators are familiar with IP
For existing switches: KVM channels/devices can be bundles, bandwidth can be limited
Economical aspect: Depending on project requirements and framework conditions, KVM-over-IP is financially interesting
[note note_color="#FFEE66″]
Check list
We recommend answering the following questions before choosing a KVM solution:
[list icon="icon: check-circle" icon_color="#42CB5C"]
Are you planning a complete installation or several "islands" to be connected with each other?
How many devices would you like to connect?
To which switches in the network do you want to connect which components?
Which application do you want to implement? A normal office application, a control room application with multiple stills, or even a live TV broadcast?
What bandwidth does your network have and is it sufficient? Do you need to set up a new, more powerful network?
For more complex installations with multiple sub-networks: What bandwidth is available between the individual islands? Are there any bottlenecks?
Which signals do you want to distribute? Which video resolution do you need?
[/list][/note]
IP-only? Not at all!
The new IP systems do not generally replace original KVM systems, since these systems have their own advantages and are still used in many projects.  Whether IP or classic, the more important point is rather: To be future-proof, systems must be adaptable. This is the only way they can still be used when it comes to changing requirements. Even if you want to expand your installation, your KVM system simply grows with it thanks to compatible components. In this way, we ensure that your KVM systems – whether classic or IP – can continue to grow.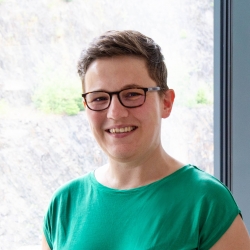 Latest posts by Bianca Schmidt
(see all)