The operating options within a KVM matrix installation are extremely versatile. Depending on the task and user, you can use the Config Panel 21 web application or the on-screen display, for example. To keep the operation of our systems as simple as possible, we provide various key sets to execute frequently recurring commands within a very short amount of time.
Mastering and using them lets you work much faster. This blog post gives you an overview of the different sets and their fields of application.
Key sets – benefits and function
Key sets are key combinations you can define. To carry out various functions, simply press a defined key set on your keyboard without opening the on-screen display or the web application. You can also make key sets available to users who don't have access to the on-screen display. However, to keep the system secure, only users assigned with superuser rights can create and edit global key sets.
To execute functions faster, we offer you the following key sets:
Select keys for fast switching between different computer modules
By entering a key combination on the keyboard of the console module, Select keys let you switch much faster between different computer modules compared to using the on-screen display.
Script keys for easy execution of a stored script
Scenario switching lets you store the switching condition of one or multiple workplaces, or even of the entire system. The switching states are stored in a script.
After setting up and activating a script key set in a user account, simply press the corresponding key combination on the workstation keyboard to execute a script stored in the matrix system.
TradeSwitch keys for switching the keyboard/mouse focus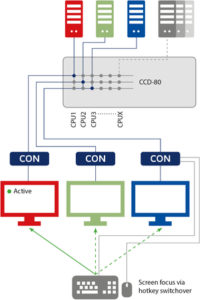 The TradeSwitch function lets you combine multiple console modules to one logical console (workplace). You can operate this console with one keyboard and one mouse even working with multiple monitors (multi-monitor console). A monitor is connected to each console module. Keyboard and mouse are connected to one of the console modules, the main console.
There are also several options for the TradeSwitch function to switch the two input devices to the different monitors and thus the different computers. In addition to switching via on-screen display or CrossDisplay-Switching, you can also define and activate TradeSwitch keys to quickly switch between different computers.
Push-Get keys for moving computer and screen contents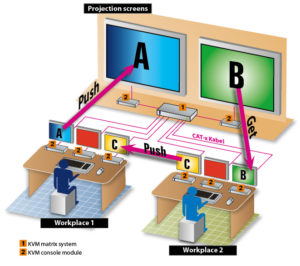 With the Push-Get function, you can move the screen contents of a computer connected to a KVM matrix system to – or get it from – the display of another console. This display can be a large screen projection, for example. Using this function, all consoles can exchange computer and screen contents or work together on tasks.
To execute this function, you can also configure key sets and activate them in the user account. Now you can move and get the screen contents of a console simply by pressing a key combination.
ActiveKey Keyboard for simplifying tasks via programmable keyboard
With the help of the key sets mentioned in this post, operating your KVM system has never been easier and faster. But especially when using many different key sets, you can sometimes lose track. In this case, the ActiveKey Keyboard comes in handy.
With 31 programmable keys, it provides great operating comfort for many applications.  To program the individual function keys, simply use the supplied configuration program. This way, you can assign each of the various key sets to one key
Latest posts by Michael Kaiser-Uebelhoer
(see all)