Especially in large installations, it is often necessary to have access to several computers at the same time. Ideally, you want to display the images of the individual computers on separate monitors. But how do you access all of these computers without having to connect separate keyboards and mouse devices to each computer? That's where the TradeSwitch function comes into play.
What is the TradeSwitch function?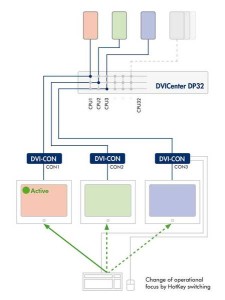 The additionally available TradeSwitch function helps you operate workplaces that need to monitor multiple computers over multiple monitors
The TradeSwitch function combines multiple user modules to one logical console with multiple monitors. Instead of having to provide each monitor with a keyboard and a mouse, you can operate the entire workplace with one central keyboard and one central mouse.
To enable this, the user modules of a KVM matrix system are grouped to create multi-monitor workplaces.
Within a group, a monitor is connected to each user module. One of the user modules within this group, the main workplace, is now provided with a keyboard and a mouse. You can use a hotkey to switch both input devices to every monitor and are therefore able to operate every module or computer included in the group.
How can I configure the TradeSwitch function?
The TradeSwitch function is configured in the Config Panel of your KVM matrix system. Here, you can combine any user modules and/or target computers into a multi-monitor workplace.
With the help of defined hotkeys called TradeSwitch keys, the TradeSwitch function switches keyboard and mouse signals of a user module to another user module. The keys to switch keyboard and mouse signals can be defined individually.
In addition to TradeSwitch keys, you can also define a valid key type for the TradeSwitch keys. Here, you can choose if you want to allow numbers, letters or numbers and letters as TradeSwitch keys.
After the configuration of the TradeSwitch function, you can use the defined keys to switch between modules.
In addition to switching between user modules using the TradeSwitch function, you can try CrossDisplay-Switching to use the mouse to switch between computers.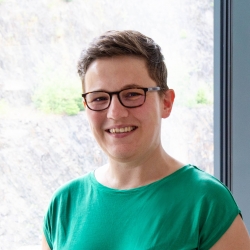 Latest posts by Bianca Schmidt
(see all)