In the past, we used Java for the web-based configuration of KVM systems. But since Java is now more and more perceived as a security risk and therefore no longer supported by many browsers, we have developed the Config Panel 21, CP21 for short.
The Config Panel 21 is a web application based on HTML5. This application does not require any software installation and provides a graphical user interface for configuring digital KVM matrix switches. It is operated via a web browser of your choice. Additionally, you can also use the CP 21 on medium or large touch devices.
Intuitive and user-friendly – even in complex KVM installations
The web application is an alternative and addition to configuring KVM systems via on-screen display. You can even use it independently of the console modules included in a network. You will find all settings available in the on-screen display visualized here in a clearly arranged navigation. New functions such as Copy Config do not just make your work easier. They also let you configure even complex KVM installations extremely fast.
Advantages of the Config Panel 21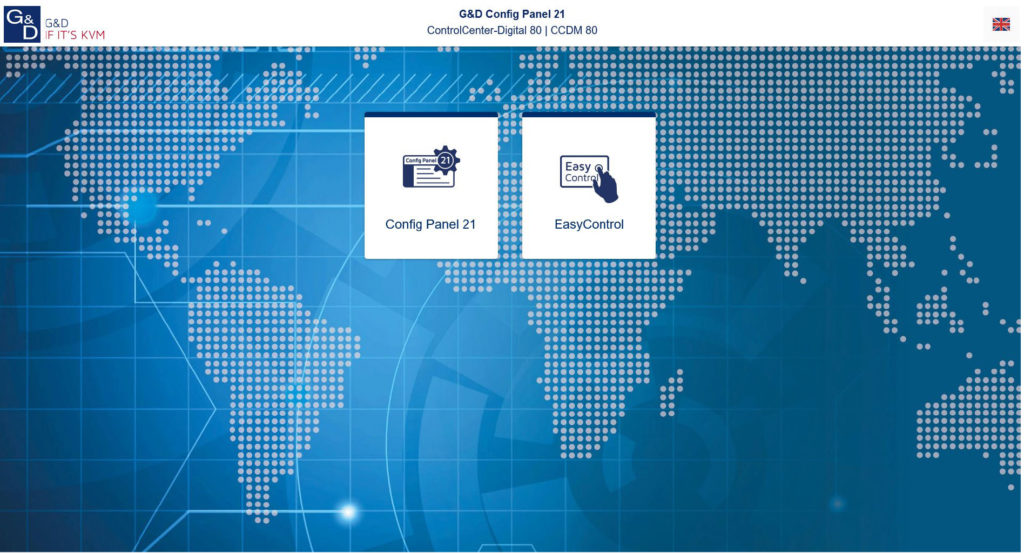 For easier operation, we have designed the new web application and user interface to provide you with a much clearer overview. In particular, first-time users or users who do not work with the system very often will find the help function and an extensive glossary very useful.
Structure of the new web application
Step by step, Wizards will lead you through complex configurations, thus making it easier to set up select keys, the TradeSwitch function, CrossDisplay-Switching or even a KVM matrix grid.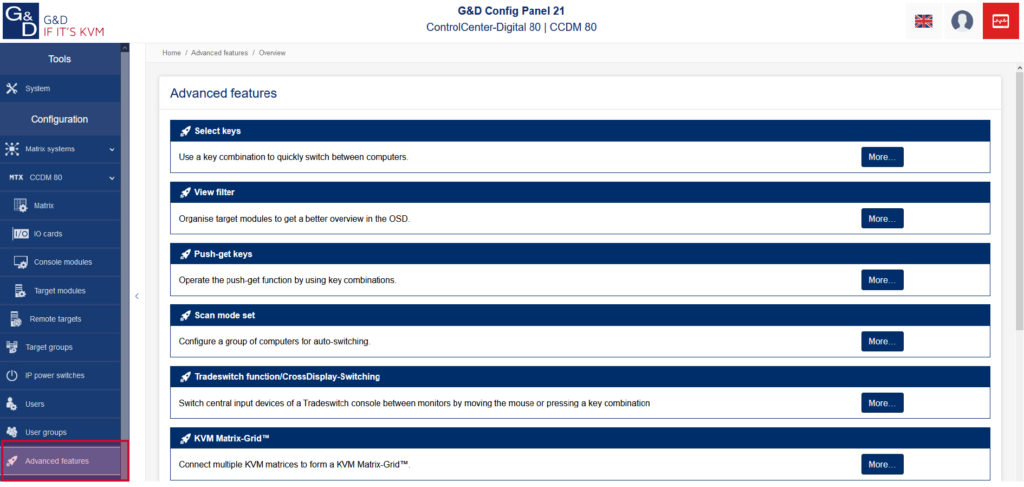 In addition to the main navigation you already know from the previous version, we have added a sub navigation. This new navigation menu shows all sub items, which would otherwise be hidden, in an overview. You can also use it to directly go to the individual menu items.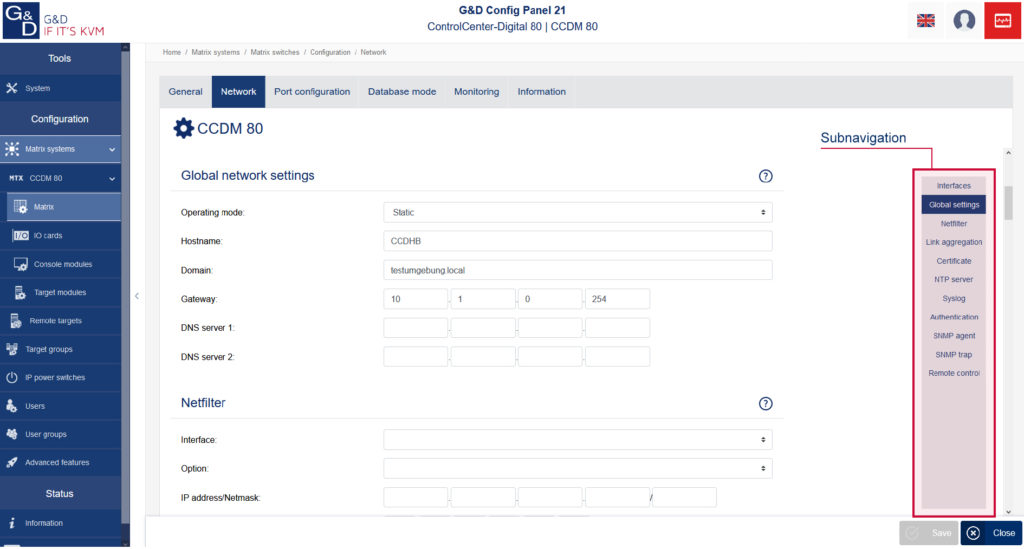 Health monitor and freely configurable tables
In the upper right corner of the Config Panel 21 you will now find a health monitor. Using different colors (red, yellow, and green), you can see immediately whether the system reports relevant monitoring messages to which you should respond.
In addition, you can freely configure tables and customize them according to your requirements. In a list view, you can add the information you need, e.g. name, firmware version, show/hide monitoring values or you can move columns.
Context-related service tools
TheConfig Panel 21 also offers context-related service tools you can find directly on the main interface. The contents of this menu changes depending on the device type (e.g. matrix, CPU or CON). These tools give you quick access to the functions you need for maintaining your devices, such as performing an update or turning on an Ident LED.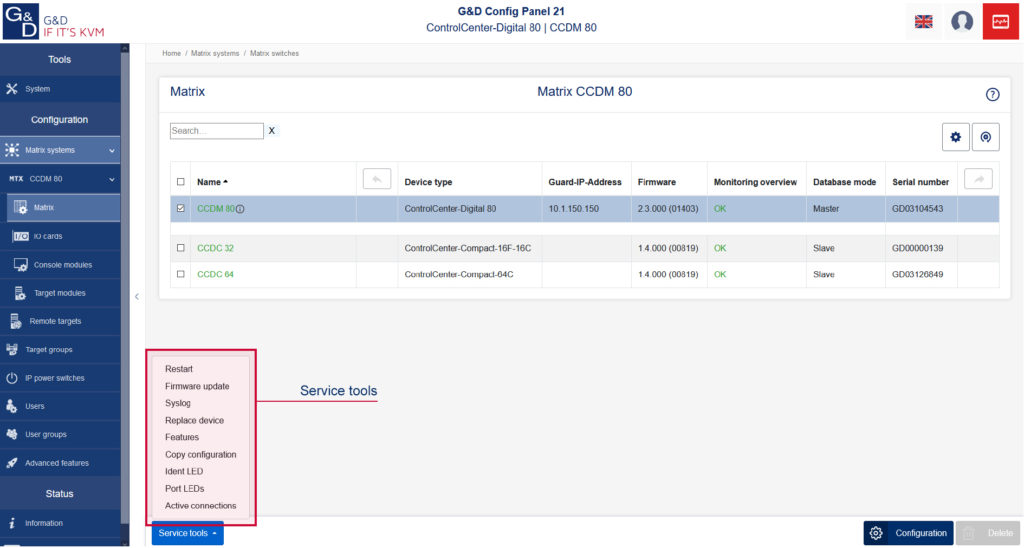 New functions of the Config Panel 21
The Copy Config function saves you an enormous amount of time, especially when configuring large KVM installations, and makes work much easier. After configuring a CPU or target module according to your requirements, you can easily and quickly copy its configuration to all other target modules.
We have also improved and simplified the update function. All firmware files and versions required for the devices used (e.g. different CPU and CON variants) can be stored in the device memory. Afterwards you simply select the devices that you want to update and start the update process. At the end you will receive a confirmation that the update was successful.
Easy replacement of devices
Another new function lets you easily replace a device. The configuration of the old device, including all assigned rights, is copied to the newly installed device. The user replacing the device doesn't even have to have configuration rights. This is particularly interesting for companies working with different service levels.
Helpful switching concepts
Sync switching is an especially useful function for redundant installations. With this function you can compare and synchronize the switching states of several matrix systems. If a matrix fails and another matrix takes over the function of the failed device, the new device shows exactly the same state as the failed one. This functione, too, is easy to configure using the Config Panel 21.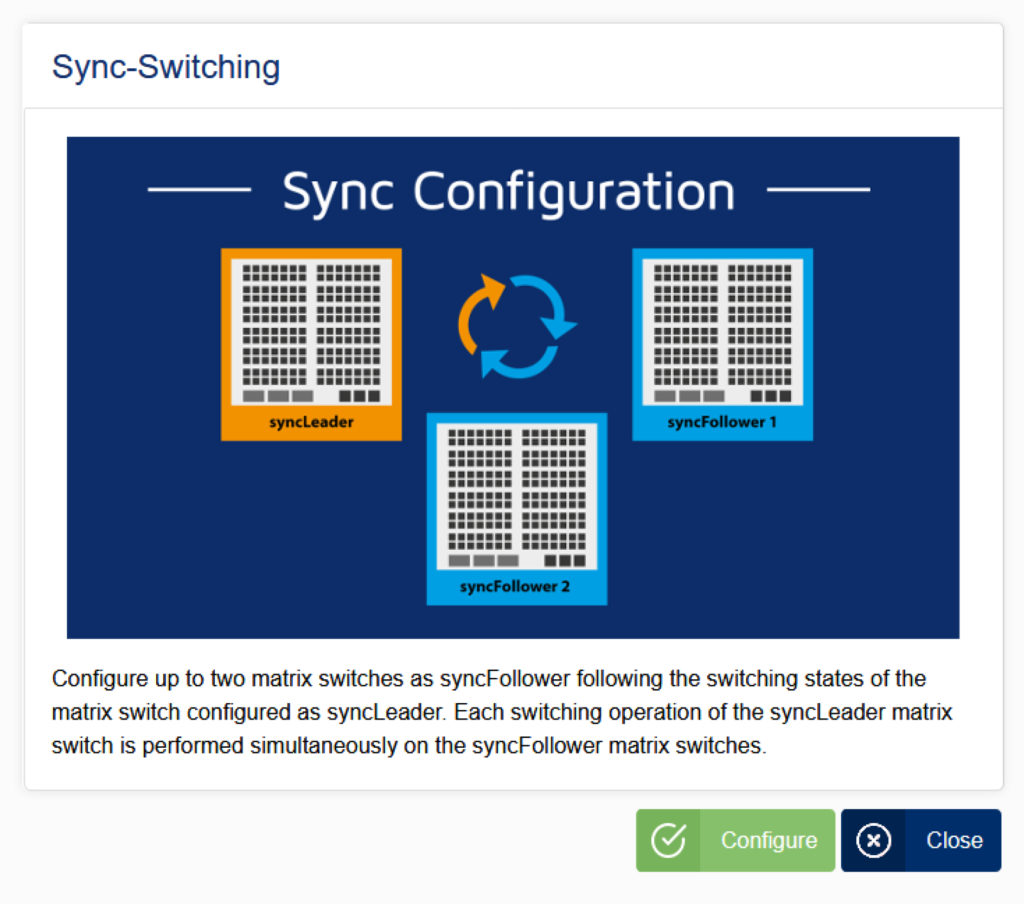 And what about compatibility?
The Config Panel 21 cannot be used with the DVICenter. In practice, however, this is not a problem since most devices using an integrated CP 21 are compatible with DVICenter devices. Thus you can seamlessly add a device with Config Panel 21 to DVICenter devices – even if the web application is not installed on the DVICenter itself. Even the databases of these devices are compatible. This also allows you to import an existing DVICenter configuration into the Config Panel 21.
Latest posts by Michael Kaiser-Uebelhoer
(see all)