In recent years, both iPod and music streaming have significantly changed the way we listen to our favourite songs at home and on the go. Unfortunately, these new ways of consuming music have also led us to accept some noticeable losses in quality.  Especially for stationary applications in the professional sector, these quality losses when it comes to audio transmission are often a no-go. This aspect sparked the desire for a scalable solution optimized for especially these applications. At G&D, we therefore offer three different options for transmitting audio signals according to your needs.
Audio transmission as standard
One of our oldest KVM matrix systems, the CATCenter-NEO, which is considered the mother of today's matrices, already supported the transmission of audio signals. While at that time you needed a special expansion stage of the console module UCON, the matrix's successor, the DVI-Center, and the DVI-CON console modules were already equipped with a jack connector.
Today, audio transmission is standard in all major G&D products and users around the world can use the jack connector to connect speakers to their workstations. Of course, this only works if the administrator has given them the rights.
Transmitting audio signals without even noticing it
New signals come with completely new advantages. In recent years, the classic jack connector has become less and less important. Nowadays, monitor cables transport audio signals directly while speakers integrated into the monitor play them back.
As this technology fascinates us, we have incorporated it into some of our products. This way you can get an audio signal to the workplace without even noticing it.
Audio transmission for highest demands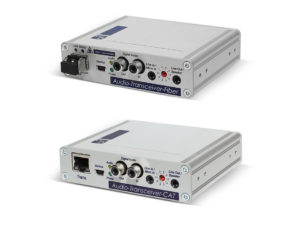 After we were done with the obligatory, we had time to put another cherry on top. So we came across the topic of "digital audio". The SPDIF standard is used to transmit high-quality multi-channel audio, some of which is encrypted. Admittedly, this type of audio transmission is often not required, as the sound quality of our beloved jack connector is sufficient. However, if you need high-quality audio output, you want to use this connector. This is why we developed the Audio-Transceiver, which transmits exactly these signals. Since it is a dedicated small device, you can easily integrate it into your existing systems.
Latest posts by Guntermann & Drunck
(see all)