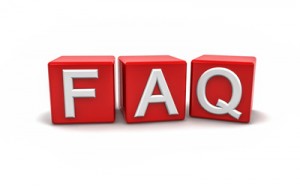 During busy days in control rooms or studios it's most likely that you encounter the following situation: You work on a computer but need to access a computer placed in a completely different part of the building. Quite annoying if you're stressed and need to finish your tasks as soon as possible. Wouldn't it be great if you could directly switch to any computer you want to access. Impossible? Not at all! That's where KVM switches come in handy.
What are KVM switches?
Depending on the variants applied, you can use KVM switches – KVM is short for keyboard, video, mouse – to operate up to 64 computers from your workstation. This workstation, sometimes also called console, consists of keyboard, monitor and mouse that are directly connected to the KVM switch. So far, so good.
How do KVM switches work?
KVM switches establish a connection between the signals of keyboard, monitor and mouse and the selected computer. Whenever you use the switch to switch to another computer, keyboard and mouse are provided at said computer.
There are different ways of accessing computers:
Buttons on the device
Definable hotkeys
Middle mouse key
OSD menus (on-screen display)
Most KVM switches support any of these ways of switching between computers.
What we know so far: You can connect multiple computers to a KVM switch to which you connect keyboard, mouse and monitor. Use the switch to switch between the connected computers.
Which signals do KVM switches switch?
KVM switches switch one or several of the following signals:
Single- and dual-link DVI/VGA (some KVM switches support mixed operation)
PS/2 and USB keyboard/mouse
transparent USB 2.0
Audio
RS232
What are the differences between KVM switches?
At some KVM switches like G&D's TradeSwitch, video signals don't run through the switch. The console monitors are directly connected to the computers and display their images permanently. With the switch and CrossDisplay-Switching, you can access the connected computers by mouse. By moving the cursor from one monitor to another, keyboard and mouse automatically switch to the computer connected to the selected monitor.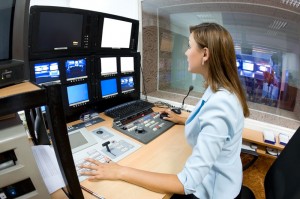 Multichannel variants of KVM switches let you switch up to 4 × DVI/VGA, keyboard/mouse, USB 2.0 and audio per computer. The MC4 variant of miniMUX KVM switches provides ports for four computers with four graphics outputs each. Meaning that instead of 16 monitors that would be required to show the screen contents without employing a switch, the data of all computers is shown on four monitors. This doesn't only save hardware but energy costs as well.
Multichannel KVM switches are often used to monitor many processes at the same time. When employing the devices at the stock exchange, for example, three monitors can display the courses from different markets while the fourth is used to show the e-mail program or any other application.
In short:
Workstations without KVM switch: many devices, high energy costs, high hardware costs, cluttered
Workstations with KVM switch: fewer devices, less costs, clearly arranged
What advantages does employing KVM switches have?
As shortly mentioned before, employing KVM switches has many advantages. Its not only the reduced costs for hardware that play an important role. Even the environment benefits from employing fewer devices.
And here are even more advantages:
Easy, central administration of computers in the server room
More space in the server room through less additional hardware (mouse, keyboard, monitor)
Reduced energy costs thanks to fewer monitors
Clearly arranged server racks provide better overview of computers
No additional software required
Protection against unauthorized access when computers are placed in access-protected server rooms
Do you employ KVM switches? Or how would you benefit from employing them? Leave us your opinions and experiences in the comments.
By: Bianca Schmidt
(Image: Tony Hegewald/pixelio.de)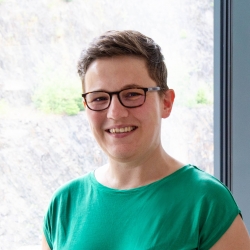 Latest posts by Bianca Schmidt
(see all)