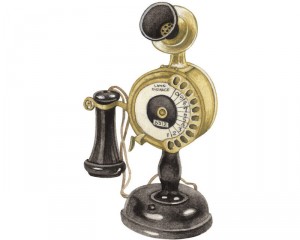 By: Hendrik Müller
Where do you find the annually largest gathering of future-oriented IT followers with an inclination to overuse modern mobile communication devices and yet still pondering what else to digitalise?
Right, at CeBIT. Even though there is a small recognizable decline in visitors numbers, CeBIT still remains to be the event of the year for today's and future IT – or, also for yesterday's?
What makes me say that? Not too long ago the analogue "ring-ring" of the good old fashioned dial plate telephones sounded wherever you went. Yes exactly, the one your dad used to lock up at night so you would not spend hours chatting away to your friends. Why did he do that? Because, at the time there was no such thing as flatrates.
And nowadays, with flatrates being nothing unusual, the proud owners of the latest most astounding and miraculous communication devices (iPhones, Androids & Co.) again enjoy being summoned to a business call to the familiar "ring-ring" of the seventies.
Ana Chronism sends her regards – and so do I!
Latest posts by Guntermann & Drunck
(see all)