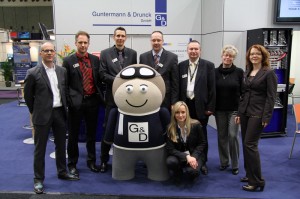 Well, hello! Did you recognize me at the ATC Global? For almost a year now, the guys and gals at G&D give away these lovely USB sticks that look exactly like me whenever they are at exhibitions. And this time I even joined them – in person. Always at your service if you have any questions about KVM. Your companion when it comes to projects with the highest technical requirements.
You might wonder where my name came from. Well, this is your chance for taking wild guesses.
And while we're at it: wild reminds me of the good times I had at ATC, Air Traffic Control, where me and my G&D wingman buddies had a stand and talked to many people (well, I have to admit my buddies did most of the talking) from 6-8 March. The picture shows all of us with our fellow wingman Peter from the Netherlands. Peter is the one who copied my haircut, just without the goggles.
Let me tell you more about the exhibition. It went really well and we were always busy. There were many interesting people with really interesting jobs from many different countries: technicians, air traffic controllers, CEOs and CTOs and oh so many lovely ladies who took their time cuddling me…what a lucky guy I am.
But do you want to know a secret? Working at the stand can sometimes be really stressful. Even a tough wingman like me had to take a break now and then. And that's why I secretly took off.
Unfortunately, my colleagues couldn't take a joke and caught me before I could leave the fairgrounds. Poor things weren't able to manage the exhibition all by themselves – no wonder, I really am THAT great.
But enough about me (sometimes I'm humble like this). We're back in Germany and deal with the profound questions we brought back from the exhibition.
If you want to visit me – I'm always here for you.
And again: I'm waiting for your guesses. Why am I called Sully? I wonder if anyone out there will guess the answer.
See you soon,
Sully
KVM Wingman at G&D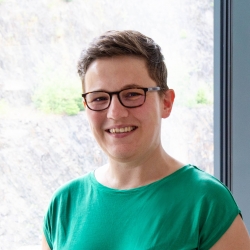 Latest posts by Bianca Schmidt
(see all)