As G&D expands more and more into the North American market, so too does the G&D North America team. But just because these new additions to the growing G&D family operate in North America, it doesn't mean that they are completely abandoning the G&D German roots. To make sure of that, the US team took a journey to the German headquarters to meet their counterparts in Europe.
Gaining an insight into the German headquarter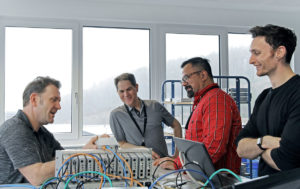 G&D North America employees Andy Coole, Jaime Lopez, and Joe Welkie all received a tour of the German facilities. Here, KVM trainer Hendrik Müller introduced them to their German colleagues.  During their two-week stay he also provided them with some hands-on KVM training. The time in Germany was an incredibly informative experience for the team as they further expanded their knowledge of KVM devices: how to install them, how they work, and all the useful features the G&D products include.
Exploring the city of Siegen and tasting German dishes
That's not all though! While they were abroad, the North American employees were given a tour of historic Siegen by a variety of their German coworkers. They got to see Nikolaikirche, toured the historic Oberes Schloss, experienced Siegerlandmuseum. On top of this, they also got to enjoy some of the finest traditional German dishes Siegen has to offer.
It was a spectacularly fun and informative trip for the North American team, who returns to the United States with more knowledge of KVM than before. So, if you are in need of KVM solutions in North America, these are the experts to contact.

Latest posts by Guntermann & Drunck
(see all)