Admittedly, the term »interoperability« sounds rather cumbersome. And yet it still plays an important role in connection with our devices and applications, which means that different systems can be operated in a way that is anything but cumbersome. But what exactly does interoperability mean? And how do we implement it at G&D? These are the main questions we will answer in today's blog post.
What is interoperability?
Interoperability is the umbrella term for the seamless cooperation of independent, heterogeneous systems. This makes it possible to efficiently and quickly exchange information between systems and make it available to operators. As a rule, cooperation between the systems does not require any special settings or changes to the systems – they are therefore compatible with each other.
How does interoperability work at G&D?
At our ISE booth we are showing a perfect example of how seamlessly our systems work with third-party devices.
Our exhibition setup is a typical control room scenario with a KVM matrix switch ControlCenter-Compact as the central device. The five consoles on the control desk are connected to the matrix switch and can be operated via CrossDisplay-Switching. The function makes it possible to use the mouse to switch easily between the individual connected computers.
In addition to the consoles with different resolutions from Full-HD to 4K, our example control room also contains a large video wall, which can be operated via CrossDisplay-Switching as well as with other control room features such as the push-get function or scenario switching.
VuWall controller – operation via matrix API
A VuWall controller is also integrated in the system. And this is where interoperability comes into play. In our ISE installation, the matrix takes over the control since the matrix and its features select the sources for the video wall. However, the VuWall system can also execute switching operations via the API of the matrix. Depending on the desired application, the VuWall controller can also take over the operation and switch to the sources you want to display on the video wall.
On the video wall, you can arbitrarily arrange the contents of different sources using the controller. They can even overlap or you can show only sections of individual sources. If, for example, you want to observe a process that is located in the lower right-hand corner of a screen, you can display and enlarge only this section on the video wall.
Visit us at ISE
If you want to convince yourself of the perfect interaction, i. e. the interoperability of different systems, feel free to visit us at ISE in Amsterdam. Until February 9th 2018 you can meet us at stand10-N182. If you still need a ticket for the event, please use our invitation code 704729 for free registration.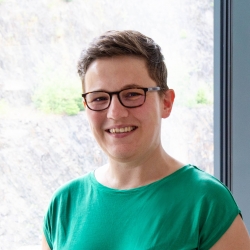 Latest posts by Bianca Schmidt
(see all)