With 57,000 visitors and 1,700 exhibitors from 170 countries, this year's IBC once again proved to be the meeting place for the broadcast industry. Of course, we didn't want to miss out on such an event. Therefore, today's blog post gives you an overview of the highlights we presented at our stand.
Our IBC highlight: the new IP matrix system ControlCenter-IP
With the ControlCenter-IP we presented our brand new matrix system for KVM-over-IP™ at IBC. The matrix enables the extension and the distributed switching of computer signals via standard IP-based networks on layer 3.
Using the ControlCenter-IP, even the largest IT installations can be easily scaled and implemented over IP. Together with extenders for KVM-over-IP™, the ControlCenter-IP ensures pixel-perfect video quality, high performance and maximum reliability in broadcast-typical control rooms.
In an interview from the event, our colleague Benedikt Hartmann shows you what else the ControlCenter-IP has to offer:
ControlCenter-IP excites visitors with real 4K over IP
We at G&D are not the only ones excited about our new IP matrix. The visitors to our stand were also amazed at the device's complex range of features. A special highlight and by no means to be taken for granted: the transmission of 4K over IP. Even at high resolutions, the system delivers optimal, pixel-perfect and latency-free image quality for the best possible hand-eye coordination.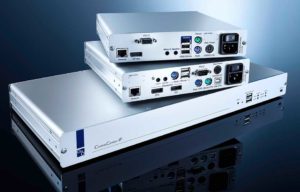 As G&D's Marketing Director Jochen Bauer follows up the trade fair, he is delighted with the visitors' reactions: "The enthusiasm we received for the ControlCenter-IP was a great confirmation for us that our new matrix has hit the nerve of the industry. Especially the possibility of CrossDisplay-Switching without using an additional device and the transmission of real 4K at 60 Hz was extremely well received by the visitors".
IP-only? Not necessarily.
But we weren't at IBC to present new IP devices only. Notwithstanding the advantages of transmission over IP, for some applications classic KVM systems are more suitable. For this requirement we offered the new expansion stages of our matrix system ControlCenter-Compact. Recently, we've added six variants with 176 and 128 CAT ports as well as mixed variants with 32 fiber ports and optionally 16, 32, 48 or 80 CAT ports to our portfolio.Again, Jochen Bauer draws a positive conclusion: "Whether IP or classic KVM, CAT or fiber – with our one-stop shop for KVM, we are always able to offer our customers a suitable and tailor-made solution according to their project requirements".
Optimum interoperability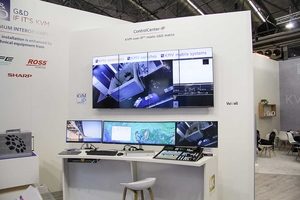 At the show, the new IP matrix proved itself in an application used in many broadcast control rooms. Several computers and video servers which can be accessed via KVM-over-IP™, a video mixer from Ross Video and a live camera that feeds live signals to the Ross video server via SDI showed how even devices from different suppliers interact perfectly.
The large screen used in the application was controlled with VuScape – a high-performance video wall controller. This way, you can display images completely flexibly on several displays.
In addition, we integrated the broadcast control system KSC Core from BFE including a control panel into the application for fast and intuitive control of the entire system. This way, we could perfectly demonstrate at our booth how interoperability works today.
8K display combined with G&D KVM extender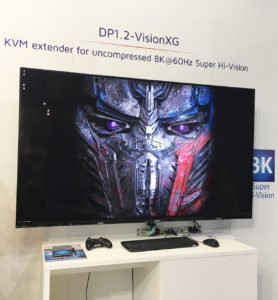 Another – extremely detailed – highlight was Sharp's 8K display, which we presented in combination with the KVM extender DP1.2-VisionXG. The 70 inch screen displays single frames at 33.1 million pixels and has a resolution of 7680 x 4320 pixels – four times as high as the resolution of 4K displays.
The DP1.2-VisionXG system is a powerful KVM extender to extend high-resolution 4K and 8K video signals at 60 Hz – pixel-perfect, uncompressed, without any loss and latency-free. It also transmits 8K resolutions up to 10,000 m via optical fibers. This allows remote computers to be operated even if they are not directly available at the workstation.
Thank you for visiting us
For us this year's IBC has once again been a great opportunity to exchange ideas with users, partners and future customers. These valuable discussions regularly give us important impulses to adapt our devices even more closely to the requirements of users. We would like to thank everyone who visited our stand and hope to see you again soon. If you did not have the opportunity to visit us in Amsterdam, you can of course also still meet us at other upcoming events. We look forward to meeting you.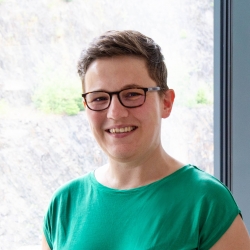 Latest posts by Bianca Schmidt
(see all)