Our customers often ask our support team questions about KVM matrix switch systems. That's why we'd like to use this blogpost as an opportunity to answer these frequently asked questions. And who knows? Maybe you'll already find the answers to your questions?!
We need a KVM solution for (x) users and (x) computers. What solution would be best suited for our requirements?
If you need a KVM system to connect multiple users and computers, a matrix switch system is the ideal solution.
The type of matrix system depends on the number of consoles and computers you want to connect.
How can I use the ports?
DVI devices like the DVICenter or the ControlCenter-Digital provide dynamic ports to which you can connect  computers or consoles. The devices auto-recognise the connected types of devices.
The ports of our VGA devices are already predefined. This means that there are certain ports for consoles and others to connect computers.
How many ports does a matrix switch provide?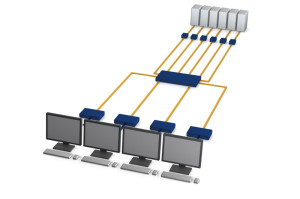 VGA devices provide 4, 8 or 16 console ports and 32 or 64 computer ports.
But if you think that these numbers of ports are suited only for small installations than you might be right at the first glance. However, VGA devices can be expanded to up to 128 console ports and thousands of computers.
Let's take a look at the CATCenter NEO16: Usually, the device offers ports for up to 16 user modules and 64 computer modules. But if you wish, you can expand the matrix switch to connect 128 user modules and 1024 computer modules.
Our DVI devices provide 16, 32, 64, 80, 160 or 288 ports you can use according to your requirements.
And our DVI devices can be expanded as well: One of our large KVM devices, the ControlCenter-Digital, is the ideal solution to connect computers and consoles. The matrix switch provides 288 dynamic ports.
And if you still need more ports, you can expand the ControlCenter-Digital to up to 4,000 ports.
How far can I place computers and matrix switch or console and matrix switch apart from each other?
The distance between users and matrix switch depends on whether you use twisted pair cables or fibre optics and if your matrix switch is a VGA or a DVI device.
Maximum transmission distance via twisted pair cables
When using VGA devices, computers and consoles can be placed up to 300 meters away from each other.
With DVI devices, the distance between console and KVM system can be up to 140 meters.
Maximum transmission distance via fibre optics
With fibre optics, you can bridge distances up to 10,000 meters. Here, it doesn't even matter if the system consists of DVI or VGA devices.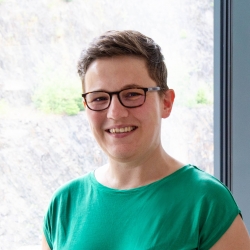 Latest posts by Bianca Schmidt
(see all)