Usually, springtime brings along many changes. At least that's the case for Martin Althaus and G&D. Since the beginning of May, Martin has joined our team as the new Head of Product Management. In today's blogpost, he tells us about his start here at G&D and the challenges KVM products pose to someone who's completely new to the topic.
Hello Martin, thank you for taking the time to do this interview. Maybe you can introduce yourself to our readers.
Hi, my name is Martin Althaus, I'm 43 years old, married, was born in Siegen and have been living here ever since.
So you're a Siegerland original.
That's right. I studied communications engineering at the University of Siegen. After I finished my studies, I started working at a company in Wetzlar. BUt after 12 years, I thought it was time to try something new. That's why I started a job as project manager. And originally I didn't intend to change jobs again that quickly.
But that's were G&D came into play?
Exactly. Last year, I got a call from a recruiter asking me if I'd be interested in becoming the head of product management at G&D. And the more I thought about it, the more excited I became about the prospective of working at G&D. Especially their philosophy regarding their employees. So after giving the whole idea some thought, I was sure that starting to work at G&D would be the right decision for me.
Most people outside of the industry don't know much about KVM. Did you work with KVM products before or were they completely new to you?
The entire topic of KVM was completely new to me. My last jobs have all been in the automotive industry. And even though there are much more technical feature in cars nowadays – mouse and keyboard are not among them 😉
So was it a special challenge to get to know the products?
Not so much from an electronical viewpoint. That was pretty easy for me. The biggest challenge was and still is the broad variety of products. It's not enough to memorize the features of all devices. I have to know how and for waht kind of installations they can be combined. I'm pretty sure that it will still take some time for me to learn the details of all devices.
As head of product management you spend much time with researching new prodcuts and trends. What's the most exciting aspect of discovering a new market?
Even as users of hard- and software we all realize that some trends come and go and some are here to stay. Suddenly, things that no one considered before are extremely important. For me, that's the biggest challenge – to look for the right trends.
What special challenges does the KVM market has to offer?
Since the market is completely new for me and since I didn't have any closer contact with computers and IT prior to working here, it's important for me to get to know the market: Getting to know the faces within the industry, making contacts – all the things people that have been working within the industry already have.
Now that you've gained some insight into the comany – did you have certain expectations what to expect?
No, not at all. Before changing my job the last time, I had many information about the company since both companies operated within the same industry. Therefore, many friends and aquaintances could give my tips.
This has been differnt in G&D's case. Here, I didn't know anybody who could tell me anything about the company so I decided to jump in at the deep end. But the things I read on the website and here on the blog gave me a pretty good impression from the atmosphere here at G&D. During my job interview and the first walk through the compny I knew that G&D was a nice fit for me.
So would you say that starting to work here at G&D has paid off?
Yes, most certainly. People here are extremely nice and, above all, extremely fair. I am particularly fascinated by the fact that constructive feedback and suggestions for changes, for example in the software, are accepted and implemented fairly quickly.
That sounds like a great start. We wish you much success for your future at G&D.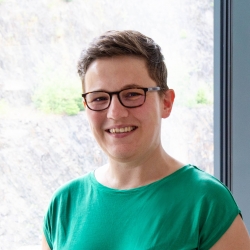 Latest posts by Bianca Schmidt
(see all)