In an earlier blog post we've already talked about G&D's training system. And in this post we announced that we wanted to let our apprentices share their opinions. So here they are: our apprentices Daniel and Julian.
Hi you two. Why don't you tell us a little bit about yourselves?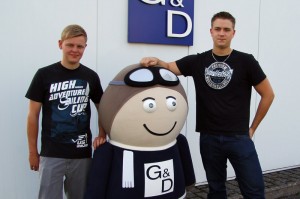 Daniel: Hi, I'm Daniel, 18 years old. Since one year I'm in training to becoming an IT system electronic technician at Guntermann & Drunck.
Julian: I'm Julian, 18 years as well and I've been a trainee for two years. Just like Daniel, I started an apprenticeship to become an IT system electronic technician. But after I spent some time in the Marketing department, I had the chance to start another apprenticeship as media designer.
What do you think about your tasks during your training?
Daniel: It gets really interesting when I'm in the different departments. That's where I learn many new things. But as I said, this is my first year here at G&D. That's why I don't really know what's going on in the other departments. I already had the chance to work with our support team. Right now I work in the production.
Julian: I like peeking into the different departments. I've already been in the production, sales, in the Marketing department and right now I'm in purchasing. It's cool getting the opportunity to learn how the departments work together.
And how do you get along with your colleagues?
Daniel: My colleagues are really nice. I really get along well with them and they help me whenever I have any questions.
Julian: I feel the same way. The people here are really nice and friendly. I have so much fun with them without compromising our high working standards.
What do you think about the training system at G&D?
Daniel: I really like being able to work in all departments. This helps me figure out my strengths and working methods.
Julian: The training's great because the people are friendly and treat each other with respect. And my mentors always help whenever I have problems or questions.
Do you feel that you can benefit from the training system?
Daniel: As I mentioned before, I've only had the chance to work in two different departments. That's why I can't say much about my experiences. During my time in production and support I learned a lot. I already look forward to the experiences in the other departments.   
Julian: Of course I can benefit from the system. Many experiences from various departments still remain in my head.
Thank you. I wish you much success and fun in your further training.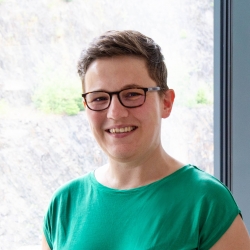 Latest posts by Bianca Schmidt
(see all)