This year, G&D again celebrated one of their legendary summer parties. Fantastic weather, good food and cold drinks left nothing to be desired…to the moment at which four Segways made an appearance.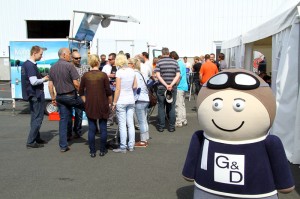 After knight's meals at the Castle Homburg, a hike along the Rothaarsteig or a tasting at a local distillery, this year's summer party took place at G&D's inner courtyard, which was full of surprises. A large buffet with delicious food provided us all with more than we could eat, iced drinks were flowing from various taps and even the weather didn't let us down. And as if this wasn't enough, all of us were quite surprised when two men suddenly built a course to drive around on Segways.
Summer party games 2012
Just as with eating and drinking, the entertainment programme offered something for everybody. Some employees released their inner Jimi Hendrix by replacing the boring air guitar with guitar and drums for the Wii and rocking their socks off. We will keep you posted if some of them plan on changing their careers to future guitar heroes.
Everyone lacking the musical gene tried their luck as ambitious athlete by trying to dribble a football around several little hats in an attempt to achieve the best possible time. But even times beyond good and evil didn't matter since every participant received a small prize. The actual highlight of the day, however, were the Segways.
Driving around on Segways – the highlight of the day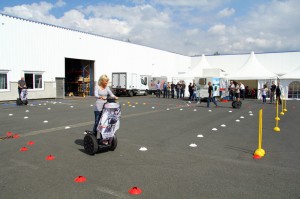 Most of us were quite sceptical when two men started building a course on our inner courtyard. Long repressed memories from school parties, sack and egg races resurfaced. But imagine our surprise (and in most cases relief) when the friendly folks from blackymotion.de suddenly showed up with four Segways. After a short introduction, the first brave employees made their first laps in the course.
The first meters on the Segway destroyed any initial fears that it wouldn't be possible to balance such a vehicle simply consisting of two wheels and a bar. Over time, more and more people dared to take a ride on the apparently not so wild beasts. It turned out that there are quite a few Segway talents among our colleagues and soon many drove the vehicles without batting an eye.
There's always the next summer party
Thanks to the great atmosphere, many colleagues decided to stay until long after midnight. And already then they began reminiscing about the wonderful day. And that's also the reason why we're already looking forward to the 2013 summer party and the many surprises it will have in store for us. Thanks again to our CEOs for a fantastic summer party.
What about your company? What do you usually do at your summer parties?
By: Bianca Schmidt/Cennet Gülmen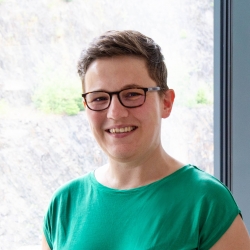 Latest posts by Bianca Schmidt
(see all)