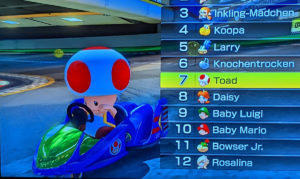 We're into the last part of an exciting race. Toad throws a mushroom and scrapes into first place. A furious Bowser slips on a banana skin behind him. Toad's lead widens and his Mario Kart victory seems assured. And suddenly, the screen goes black for just a few seconds. The result: Toad is knocked backwards by Bowser's thrown turtle shell, and the win that looked so certain is lost. A disappointing result for the motivated little mushroom head!
While races played in living rooms and kids' bedrooms are mostly about the kudos and the glory, and perhaps the odd virtual trophy, the situation in professional gaming is something quite different. If there's even the slightest glitch, the top spot in a league and even substantial prize money can be lost in an instant. At this year's IBC, we will be showcasing a KVM solution that allows professional gamers to concentrate 100 % on their game or stream, without having to worry about the technology going on in the background.
The right setup for professional streaming and gaming
To get a feel for what type of KVM solution would be a good fit for streamers and gamers, we first took a look at the equipment commonly used in streaming. For streaming in particular, it's important to keep an eye on both the gaming content and the reactions of the gamer. This happens via two cameras – a main camera for the content and a second one to capture the reactions.
A second important set-up consideration is whether to use a gaming console or gaming PC for the game. With a console, the signal has to be transmitted to both the monitor being played on and to the related streaming platform. To do this, an additional PC is needed that accesses the signals with the help of a frame grabber card. This then captures the content coming from the console and sends it to the main monitor.
Similarly, when using a gaming PC, the content is transferred to the main monitor from the graphics card. Given the processing power required for gaming in combination with streaming, it's important to have a gaming PC and an additional streaming PC available. As high-end streaming requires a lot of processing power, this would be pulled from the gaming PC's performance power where only one PC is used. In such a scenario, it is unlikely that either the player or the viewer would have a perfect gaming experience.
Switching between sources? Simply via KVM
What's still missing, of course, is the ability to switch back and forth between individual sources at high speed and without any loss of quality. It's at this point that KVM comes into play (in the truest sense of the word); it makes a perfect experience possible and brings the individual gaming and streaming components together into a cohesive system.
In our setup, both the gaming PC and the gaming console are each equipped with a DP1.2-Vision KVM extender computer module (CPU). The corresponding counterpart, the DP1.2-Vision console module (CON), is connected to the frame grabber in the gaming PC. The gaming monitor is also connected to a DP1.2-CON. A ControlCenter-Compact matrix switch is used to enable the fastest switching possible without loss of quality.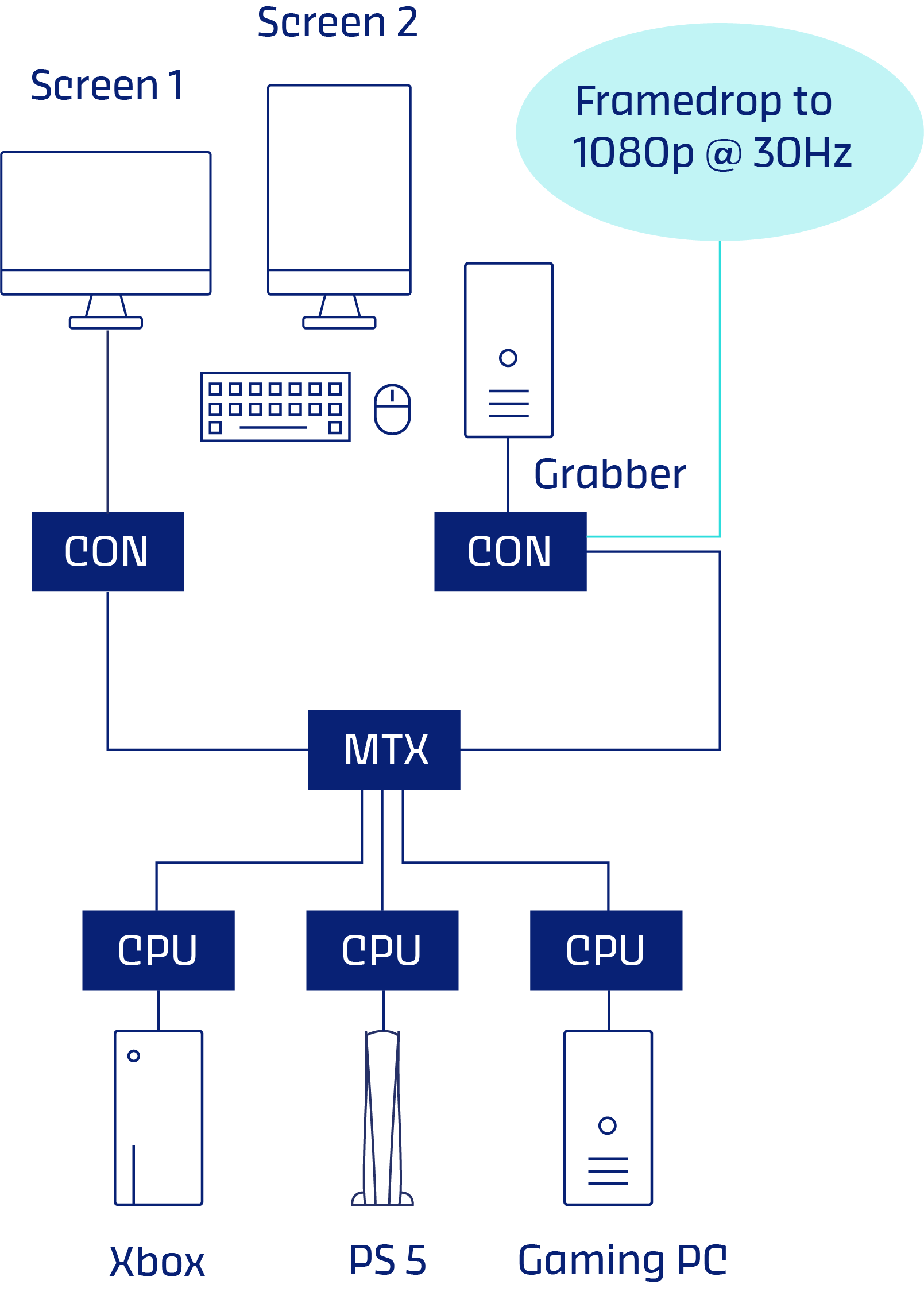 Frame rate conversion for fast switching between different sources
Gamers today also expect ever higher frame rates for a smooth gaming experience. A gaming monitor can, for example, receive a 1080 p image at 240 Hz. But when streaming to video platforms, these high frame rates aren't really needed, as here you usually see a maximum of 24 frames. So, the remaining 224 would be wasted work by the frame grabber. Frame rate conversion is a special feature to prevent this from happening. This feature allows the frame grabber input signal to be adjusted at the console module so that the frame grabber only receives the frame rate that is needed. For example, if the input signal is 1080p and 120 Hz, it can be reduced to 60 or 30 Hz. This not only eases the strain on the gaming PC, but also enables instant switching between the connected sources.
Fewer monitors for tidier workspaces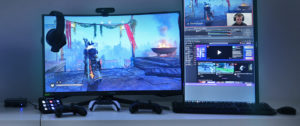 Many streamers also use something called a stream deck. Commands can be sent via stream deck with the help of assigned LED keys. These might include, for example, an OBS or lighting command controlled via script. In our case, we have written a scenario for both gaming PC and gaming console, which allows the main console module to connect to the gaming console or gaming PC. The content from these sources is then also directly fed into the monitor stream. Cluttered streaming spaces with countless monitors are therefore a thing of the past. Two displays, one landscape and one vertical, are totally sufficient to clearly display multiple sources. Even a gaming keyboard and mouse can be easily redirected to the streaming monitor to enable comments to be left in the stream chat.
With this solution, streamers no longer have to worry about setup, because it simply stays the same. Only the content changes – from PC to gaming console and back again. And that in a matter of seconds.
A solution for gaming arenas
What has been described here is a stand-alone solution, i.e. a solution for a single work space. But with the help of a matrix system, it's of course also possible to connect to video systems or to remote equipment in a gaming arena. For such cases, all equipment except for the DP1.2 console module and the controller is located in a separate tech area. This allows system administrators to switch teams to specific gaming consoles in the background, reduce frame rates, start game recordings, or switch players to a redundancy system in a fraction of a second if a console fails.
And no one has to worry about USB latency in these scenarios either. Each G&D PC module is paired with a U2+R console module for full USB support. This ensures that USB signal switching also takes place without interruption of any kind.
Whether as a stand-alone solution or in a gaming arena, using KVM ensures a tidy gaming space with complete focus on both game and stream, without any compromise whatsoever in terms of image quality and switching. And most importantly: With this setup, little Toad will surely race to victory next time. So, with all that in mind: let's play!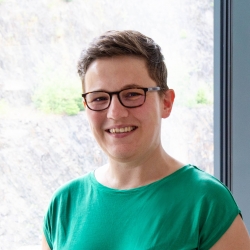 Latest posts by Bianca Schmidt
(see all)