For years, we've been equipping customers in critical environments with our KVM products. Depending on the application, the installations range from simple KVM switches to complex, fully redundant matrix systems. But even though we've taken great care in developing every function of these systems, we at G&D believe that extensive testing is essential. In order to meet the high demands that both our customers and we ourselves place on our products, we work with a test environment that has been specially designed for testing new products and firmware versions.
Comprehensive tests to fulfil the high demands posed on our equipment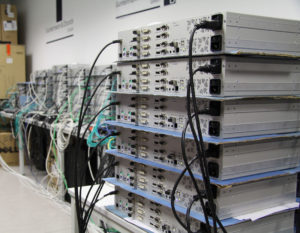 Ever since we started developing KVM equipment, we've always made sure that our devices have been thoroughly tested before their release. But during the development of the KVM extender DL-Vision, we pursued the idea of a large test environment for the first time. Thus, we've already set up a DL-Vision test environment including around 100 devices at our old company headquarters in Wilnsdorf, Germany. Soon we all realized that we wanted to make this kind of testing elementary for every release. This allowed us, for example, to run tests in large systems and do initial automated tests, leaving us some time for additional manual testing.
The move to a new, larger headquarters came in handy. We finally had enough space for an additional server room. This room now houses a variety of racks containing all sorts of products that work together in similar applications to those used by our customers.
Test environment with ever-changing installations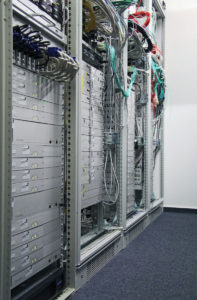 But the testing environment is not a static installation. It changes, it grows, and we try to optimize it with every new release. After development, the first prototype of a feature or function goes straight into the test environment. This is where we run automated tests, monitored by people who know our equipment inside and out. But we still rely on manual testing. After all, we need to test spontaneous ideas and processes.
But let's take a closer look at one particular part of our testing environment. In the picture, you can see four racks packed with equipment to test matrix devices. This is where we install new hardware that we then test with new firmware. In order to keep our promise of offering a compatible KVM portfolio, in addition to current hardware such as ControlCenter-Digital 288 and ControlCenter-Compact, the racks also hold many variants of our end devices. For example, we integrated the DVI-I-CPU-UC-Fiber computer module into this setup already about a year ago. After we had subjected the module to an automated basic test, we already knew that our update process worked without any problems. In addition to various resolution tests, we could test the new CPU module directly in a KVM-MatrixGrid.
Additional test space for large IP systems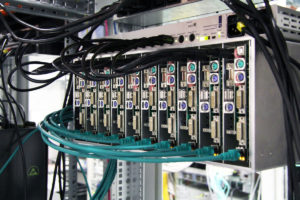 With our new IP matrix ControlCenter-IP, our devices need to be able to support even larger systems than before. The size of an IP matrix can be measured by the number of active endpoints. That's why we've added generous test space for all IP products to the test environment. Since these devices use standard encryption, testing them in a large network is particularly interesting. This allows us to verify that the encryption key exchange is working correctly. This has allowed us to optimize the time it takes to switch between channels. Now, users won't even notice the difference between using dedicated KVM transmission and transmission over IP.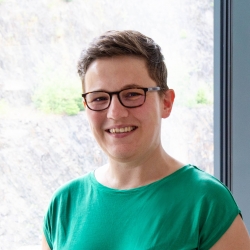 Latest posts by Bianca Schmidt
(see all)