At this year's IBC in Amsterdam we will again present some of our new product highlights. Two of these highlights will be the GPIO function and the GPIO-Changer-PS/2. But what does GPIO actually mean and how does the broadcast industry benefit from our new developments?
What does GPIO mean?
GPIO stands for "general purpose input/output" and refers to the transmission of simple switching status (on/off). KVM systems are used to extend and distribute typical computer signals (keyboard, mouse, video). In some applications, further information are transmitted from the computer to the workplace or vice versa.
These information can be:
An emergency button on the operating side,
A switching signal on the computer which switches an acoustic alarm,
Or a visual message in the form of a warning light.
Application fields include alarms in the control room, the automation of critical monitoring status, or the typical "tally light" as on-air signal in broadcasting.
Application example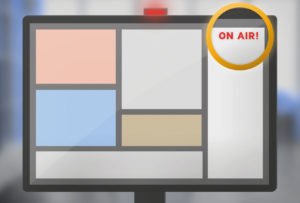 Users in broadcasting have access to multiple computers. The computer signals as well as the associated tally switching status provided by the production switcher are made available in the matrix via a transmitter (G&D computer connection module). Since these information need to be available at the user's workstation instead of the server room, the KVM matrix system also informs the console of the user about the switching status. This information can be displayed by the illumination of a connected "ON AIR" light.

Advantage
While operating remote computers and switching to specific CPUs, the current tally information (or any other GPIO information) is available to the user at any time – even before switching to a "live" machine because the status is available as on-screen display and in the computer selection menu.
Easy connection for all G&D components
In order to be able to use existing components to display GPIO status, G&D use an interface that is barely used these days: the PS/2 interface.   For some applications, this interface is still relevant and therefore still standard in G&D systems.
However, since the interfaces are hardly ever used in practice, they can now be reconfigured to be used as GPIO interface. The system indicates switching status, which are applied to the respective PS/2 contacts on the computer side, on the user's receiver module – and vice versa. Two GPIO switching status can be mapped for each PS/2 interface.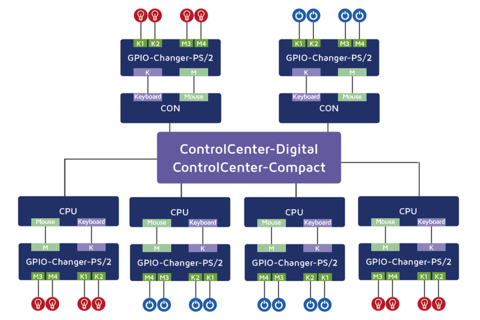 Important
The function is already included in all new devices (matrices, transmitters and receivers). A firmware update including the function is available for all existing devices. Not all former hardware variants are supported!
How and where are GPIO information displayed or rendered?
The GPIO status is transmitted directly from transmitter and receiver, or vice versa. This means that the applied switching status can be reproduced on both sides. Thus, it is physically possible to remotely transfer switching status to external systems.
But G&D systems offer even more. The matrix console modules provide an interface to which you can connect a G&D LED light (TradeSwitch LED). These LED lights can also be configured so that you can use the GPIO status to switch them on or off at the console module.
Recommended: GPIO-Changer-PS/2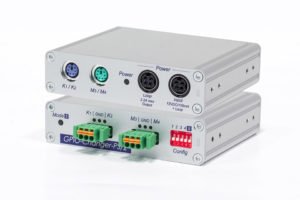 We've been developping the G&D GPIO-Changer-PS/2 both to make the connection as comfortable as possible and to expand the functionality. This allows the easy connection of your switching contacts or individual devices using a Phoenix Combicon connector and converts them to 2 × PS/2 for the connection to a G&D device. DIP switches determine the switching direction (computer to workstation or vice versa). At the input interfaces, the contacts provide a 5VDC auxiliary voltage with a maximum of 0.5mA for external switches and potential-free contacts. The input interfaces support the operation of switches that use an external power supply up to 24VDC. The output interfaces can switch consumers that use an external power supply up to 24VDC/0.4A.
To avoid damaging the unit, we recommend using the GPIO-Changer-PS/2. Nevertheless, the direct connection of the PS/2 interfaces without using the GPIO-Changer-PS/2 is possible under strict adherence to the interface description and with some expert knowledge. If you are interested in this possibility, we will be pleased to provide you with an interface description.
Experience our latest innovations live at IBC
If you would like to know more about our latest products and features, we invite you to visit at IBC in Amsterdam, 15-19 September, 2017. You can find us in hall 1 on stand B10. And if you still need a ticket for IBC, please use our invitation code 14647 when registering to secure your free ticket to the event.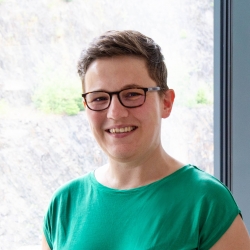 Latest posts by Bianca Schmidt
(see all)