The year 2016 is already well underway and, for G&D, it holds exciting projects, many exhibitions, new devices and functions as well as a move into a new building. And despite the fact that we're always oriented towards the future, it's worth to take a brief look back to 2015 – a year in which our flagships, the KVM extenders DVIVision and FIBREVision, underwent a major overhaul. The result? The completely reworked extenders DVI-Vision-CAT and DVI-Vision-Fiber.
Making two out of one

The reworked DVI-Vision comes in two variants: The CAT variant transmits signals via CAT-X cable. As the actual successor of FIBERVision, the fiber variant bridges distances up to 10,000 metres using fiber optics. By default, both variants transmit the signals keyboard and mouse (USB and PS/2) as well as DVI video up to 1920 x 1200 @60 Hz, audio and RS232.
Features
The new DVI-Vision system offers various features that will surely play an important role when it comes to mission-critical applications.
Monitoring          
Thus, the new DVI-Vision extensions come with G&D's premium monitoring system. The devices offer the possibility to use two network interfaces to communicate with the outside. This way, users are not only able to configure system parameters via integrated web interface, but also read out the device status. And with the support of SNMP, status changes or critical status values (e.g. a video signal that is no longer available at the computer) can be actively forwarded via SNMP trap. The integrated SNMP agent can be used to actively query status information.
To operate and configure the plug & play devices even more easily, they now offer an on-screen display in addition to the new web interface.
Screen-Freeze function                                                                          
Another function, which enjoys great popularity in control rooms, is the Screen-Freeze function. If a source loses the video signal, the KVM receiver "freezes" the last displayed image of the monitor. This state is highlighted by a red semi-transparent frame. Despite being provided with static information only, instead of sitting in front of a blank screen in the best case scenario users are able to continue their work until the display again receives an active signal.
Expansions
DVI-Vision uses the network to communicate with the appliance KVM-NetworkCenter. When deploying more than one DVI-Vision systems, the appliance lets you query, configure and update the devices.
Moreover, it is possible to include the extendersinto a matrix system. Even when operating only a small system with only a few extenders today, you can combine them with a digital matrix system if you want to expand your installation at a later point. In addition, you are also provided with the option to use any existing components as before.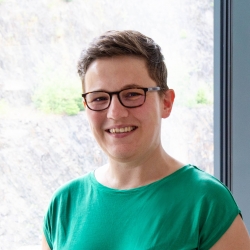 Latest posts by Bianca Schmidt
(see all)