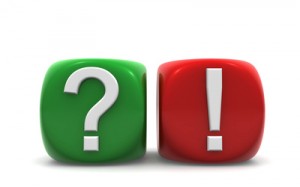 Cascading is often used in connection with our products. The term can be loosely translated as "expansion" and is a simple, useful feature. In the following, we" answer four frequently asked questions about the topic and show you how cascading works.
A day in an admin's life
Imagine you're the administrator and use KVM switches like the DVIMUX8 to connect computers. The KVM switch provides ports to connect eight computers and one console consisting of mouse, keyboard and monitor.
As admin you had your reasons for employing the DVIMUX8. After all, you need fewer keyboards, mouse devices and monitors, which in turn saves energy costs. With the KVM switch, you can access all eight computers from your desk.
You set up your system to your requirements, but as often in life, changes in the system structure require you to add two more computers to your system. But the DVIMUX8 is fully occupied with the connected eight computers.
But what now? Replacing the existing device and installing a bigger KVM-Switch, which would cause more costs and require much time for installing? Not to mention the computers' downtime.
A nightmare in every respect. But there's another way: cascading.
1. What is cascading?
Cascading means connecting two or more devices by expanding the existing KVM switch (master) with identical KVM devices (slaves). The additional devices provide more ports to connect more computers.
2. How do you cascade devices?
That's easier than you think. You only need a connection cable to connect master and slave devices.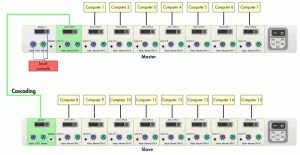 Cascading device requires only one CPU port of the master device. Connect the connection cable to the CPU port. Connect the other end of the cable to the monitor port at the slave device. That's all it takes to cascade devices. Now you have more ports to connect more computers.
3. How do you operate cascaded systems?
You can operate the system via hotkeys, setup menu (DVIMUX8) or on-screen display (DVIMUX8-OSD). The OSD looks similar to the window to adjust your monitor settings.
Both the OSD and the setup menu let you define who has access tot he system. Any rights that were assigned before cascading the devices still apply after cascading.
4. How do you benefit from cascaded systems?
Cascaded systems have many advantages. First: less costs. Expanding an existing system is always cheaper than installing an entirely new one.
Second: reduced downtime. When cascading devices, you don't need to turn off the computers connected to the KVM switch. And on top of this, you can install additional KVM switches really fast to get even more ports to connect further computers.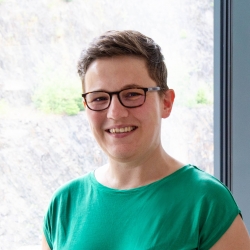 Latest posts by Bianca Schmidt
(see all)