SMM, the biggest international trade fair for shipbuilding, machinery and marine technology took place in Hamburg, 9-12 September. And since KVM and the shipbuilding industry seems to be a good fit, we participated for the first time. Now that our trade fair team has returned home from distant shores, it's time to take a look back at the three days in Hamburg.
Taking a boat to get to SMM?
"Next time, we'll take a boat to get to SMM. That'd be faster than taking a car", one of our colleagues from the SMM team said smiling after returning from SMM. Actually, that's quite a good idea considering that SMM is the world's leading trade fair for the maritime industry.
SMM – a trip to distant shores
Over 2100 exhibitors registered for stands – an amount even the organizers didn't expect. To be able to house them all on the fair grounds, they built temporary "halls". In one of these new halls, our stand found its home.
All in all, exhibitors and visitors shared a space of 90,000 square meters. If you're interested in sports: that's approximately the size of eight football fields.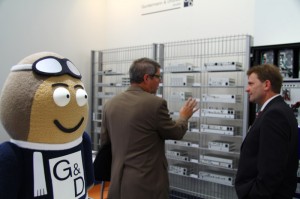 From huge ship propellers for all types of ships up to safety equipment and accessories like cutlery and door handles – SMM provided everything you'd wish for when it comes to any kind of vessel and harbours. At some stands you could even admire some handsome seaman in full uniform.
Only by being on-site, we had the chance to realize how many industries actually interact with the maritime sector. And we weren't the ones. Many exhibitors and visitors from all continents came to Hamburg to take a look at the many new products for shipbuilding and harbours.
SMM – where history met highly modern technology
Even historically, SMM had much to offer: Next to our stand, the Paris-based company DCNS, presented its products. As a former state-owned company, DCNS received its first orders from Cardinal Richelieu personally, who's also supposed to have founded the company.
But the maritime sector has to keep up with the times as well. As almost everywhere, the demands to humans and machines grow in this industry as well. To live up to the ever-changing requirements, ships are usually equipped with the newest products. And we must say that witnessing the merging contrast between the ancient craft of shipbuilding and the latest technology was rather remarkable.
Inside ah, outside hoy…
Even the extraordinary interior design at SMM proved that the trade fair is at the pulse of time. With elements made of glass and steel and other stylish details, SMM met the modern spirit of time. The design concept was completed by eye catchers like huge pink-lit anchors or a golden ship propeller placed right in front of one of the exhibition halls.
New and exciting products to discover
For us, the participation in SMM was a trip to foreign waters. But it was a trip we don't regret. Our heads are filled with exciting impressions we won't forget any time soon. And who knows? Maybe next year we'll be back at SMM.

Didi you visit this year's SMM in Hamburg? Maybe also for the first time like us? Then leave us a comment with your impressions.
By: Cennet Gülmen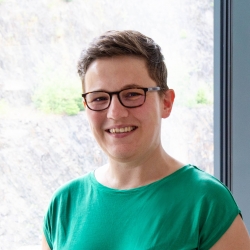 Latest posts by Bianca Schmidt
(see all)