I'm pretty sure many of you will spend parts of your week at CeBIT in Hanover. If you are the proud owner of an iPhone, iPad or Android smartphone, we have something you might be interested in: CeBIT2go – the official exhibition app.
Have any information at hand
The app gives you an overview about exhibitors, lets you search for products, shows you how to get from A to B and lists all major events taking place at CeBIT. To make sure you don't miss out on the things you've planned on visiting, you can bookmark any information that might be relevant to you. As a result, you will get a personalised exhibition guide that will help you find your way around CeBIT 2012.
Even at the different stands, the app will still give you more information. This year, all stands are provided with QR codes that can be scanned and will lead you to the website of the exhibitor whose stand you're visiting.
Find your way around CeBIT
In addition to map, GPS and compass, for the first time the app offers a tool for "Augmented Reality". Though still in its beta version, the tool gives you even more information when using your smartphone camera while walking through the fairgrounds.
Don't have an iPhone, iPad or Android smartphone? That's okay – you can also use the CeBIT2go web app.
For on-the-go exhibitor or product searches on www.cebit.de or www.cebit2go.de, CeBIT provides the free WLAN "WiFi-FairgroundsCode12345678" (Password: 12345678).
Just remember to take a break
Even if you're busy with your QR Code scanner, walking around CeBIT using your camera trying out the "Augmented Reality" tool while surfing the net, try to remember to take a break at the different stands and actually talk to the people (for example at G&D's stand D27 in hall 11).
And now it's your turn. Will you visit this year's CeBIT? Have you used the CeBIT app before? Leave a comment to let us know what you think about such tools.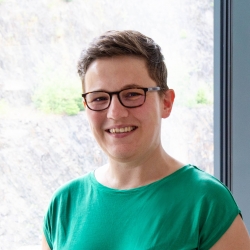 Latest posts by Bianca Schmidt
(see all)