Foundation of Dubai Office as a central location for Near Asia, Middle East and Africa
German company Guntermann & Drunck GmbH (G&D) is strengthening its activities in the Middle East by establishing a new international location in Dubai. The manufacturer of KVM solutions for control rooms is thus meeting the requirements of its customers from various markets. The KVM pioneer has been serving customers in the air traffic control, industrial and process automation, defense, broadcast, oil and gas, and maritime sectors for over 35 years. Its long-standing experience in providing solutions for these industries has made it a trusted and reliable partner for customers worldwide.
The new location for Near Asia, Middle East and Africa is located at Dubai World Trade Center. Tamby Alasker, who joined the G&D team as Director of Sales in 2022, is responsible on site. Working with mission-critical operations vendors in AV and KVM in the Middle East has been his job for the past 15 years. He serves as the main local contact and advises customers and partners on individual projects. As an expert in control room applications, he provides valuable insights and solutions to help them achieve their goals.
"We want to broaden our position in the region, so establishing an office in Dubai is a logical step for us" says CEO Roland Ollek. "With Tamby's experience, we are confident of him strengthening our existing business relations and opening up more opportunities for G&D in this sector, creating new relationships and projects". The company is thus pursuing its strategy of continuous growth and aims to expand its activities in further markets.
G&D are leading manufacturers of KVM systems for mission-critical control room applications and develops KVM products that increase the security of the IT technology in use and at the same time makes the work of control room employees smarter and more comfortable. With their variety of KVM extenders, switches and matrix switches for extending, switching, and distributing keyboard, video, and mouse signals, G&D offer their users the broadest KVM portfolio available at the market. Of course, all devices are compatible and can be combined. "I'm looking forward to working with customers and G&D's systems to develop solutions for modern and advanced control rooms" says Alasker.
Security through KVM solutions for control rooms
In order to increase awareness, the KVM manufacturer participates at several local trade shows and events. Intersec in Dubai marks the beginning of G&D's trade show year 2023. Visitors can get an overview of G&D's expertise from January 17-19 in the Cybersecurity Hall at booth F24. The focus will be on data and network security, as well as ergonomics and workplace architecture.
Digitalized processes must be monitored and controlled. KVM solutions form the basis for a flexible workplace and also enable a secure IT infrastructure. They help to operate computers remotely across systems without the need to use additional software. Implementing a KVM solution optimizes the IT infrastructure and better protects it against cybersecurity. Fail-safe operation is ensured through redundancies when implementing a KVM solution. At booth F24, a team of experts will explain and advise on the many possibilities.
Interested parties can find more information on KVM solutions from G&D at www.gdsys.com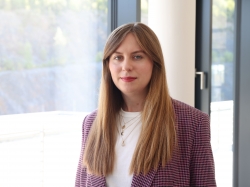 Latest posts by Linda Hartmann
(see all)