Florian Kissel is young, successfull and has been working for Guntermann & Drunck since January 1st, 2013. Mr Kissel will give us some insight into his professional carreer and his new post with G&D. And, he has some advice for young people who are looking for a job or an apprenticeship.
Hello Mr Kissel, please do introduce yourself and tell us something about your carrier.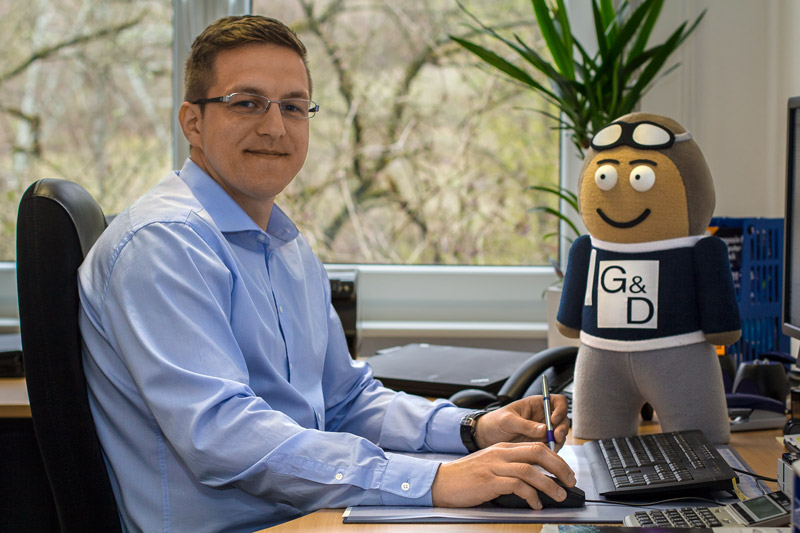 Florian Kissel: My name is Florian Kissel and I am a native "Siegerländer", meaning I was born in the same region, which is also home to Guntermann & Drunck.
I am 30 years of age and I am the new division manager of G&D's  technical support team.
Please, tell us something about your professional background!
Florian Kissel: I did my apprenticeship in a very small company, which consisted only of my two bosses, another apprentice and myself. This automatically implied lots of work, much stress and even more responsibility.
But, these years of my apprenticeship prepared me extremely well for my future career. Having finished my apprenticeship I started working as a service technician for the same company. After a while I moved on to another company where I was employed as a project manager for a couple of years. I once again changed my employer and became Head of the Software Development division, which also implied direct contact with end customer.
Why did you apply for a job with G&D?
Florian Kissel: The last company I worked for was undergoing restructuring, which is why I started looking for a new job. Through the internet I contacted an employment agency, which got me in touch with G&D. Looking at the G&D webpage, I had a good feeling and finally handed in my CV.
Which expectations did you have?
Florian Kissel: There are three crucial points based on which I made my decision: a solid and authentic company philosophy, a good working environment within the company and local headquarters, because I wanted to stay in the region.
Did you find your expectations fulfilled?
Florian Kissel: Yes, definitely. Or I would not have accepted the post, if I had not had a good feeling in the first place.
Interviewing other new colleagues previously, they all mentioned that a good work climate was important to them. Why is it so important to you personally? 
Florian Kissel: We all spent the majority of our time in work. Therefore a good work climate is indispensable. After all, work is part of our daily life and consequently the work climate has a major impact on our well being, the quality of life as such and the way we generally manage to cope with things.
A bad work climate has an equally bad impact on your own motivation. In the end not much good will result from it. Even a high salary cannot compensate for it.
You are relatively young, you worked for several companies having reached a good position in all of them. Many young people are also looking for a fulfilling job – what would you recommend to them?
Florian Kissel: Most importantly you should have goals in life. If you follow them up consequently, the rest will come in due time.
Sometimes you have to make compromises, but that can hardly be avoided. Looking back you soon notice that difficult times also strengthen your character.
And in case you notice that a goal once set does not meet your expectations after all?
Florian Kissel: That is nothing to worry about. If the meant to be dream job does not turn to be what you had hoped for, there is no reason to give up straight off.
New circumstances may also imply new opportunities. Grasp them and make the most of them. This may take time, but as long as you do not come to a stand still it'll be alright. Once you have found something more suitable, you should set yourself new goals.
Having a goal is more motivating than being aimless and unsystematic.
Thanks a lot for your time and all the best for your future career.
Latest posts by Cennet Gülmen
(see all)