What do you realise when you take a look at all the interviews we did for this blog? Exactly: They are all interviews with our new team members. Now we'd like to turn the tables and talk to someone who has been working here at G&D for more than 20 years: Michael Pauly.
Wow, over 20 years at G&D – I guess, you certainly have a lot to talk about. But first, why won't you tell us a little bit about yourself.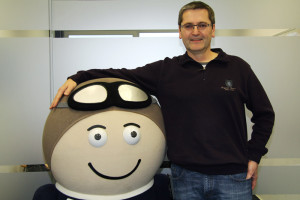 Michael: Hi, I'm Michael Pauly, I'm 48 years old and am working as information electronics technician in G&D's support team.
And what are your tasks here at G&D?
Michael: I support customers if they have issues with and question about our products.
In the intro we've told our readers that you've been working here for over 20 years. How long has it been exactly?
Michael: I've been working here for 22 years.
And how come you started working here?
Michael: Before I started working here, I had a job at a large company where I finished my apprenticeship and worked for a couple of years. During that time, I've witnessed many ups and downs at the company. And suddenly everyone was talking about that the company would close soon.
For me, this was the perfect time to look for something new. But I wanted to stay in Siegen for private reasons. Then I read the newspaper ad from Guntermann & Drunck. I applied and, fortunately, got the job.
How was your start at G&D? How did your work change compared to your old job?

Michael: Starting at G&D was a major change for me. I came from a big company and, 22 years ago, G&D was rather small. At small companies, you have many different tasks. It's often quite stressful combined with large responsibilities as well as flexibility. There've been many things I had to do by myself since there weren't that many colleagues.
However, the atmosphere was and, until today, still is rather familiar. On Friday nights, we sometimes sat together to drink a beer – after work of course.
After some time, the company moved from St.-Johann-Str. in Siegen to the industrial area in Wilnsdorf.
Back then, there still was a huge parking space were our sales team and the CEOs have their offices today.
It's interesting and exciting to witness how the company has changed during the last 20 years.
Did your work change in comparison to 20 years ago?
Michael: Of course it did. When I started, I didn't have much contact with our customers. I was responsible for assembling and testing the training network "VN 32".
After repairing faulty parts, I became a member of the support team. And even then, I didn't have much contact with our customers, because we still focused on the training networks since all other products hadn't been developed back then.
Now it's the complete opposite. Of course in large parts this has to do with our broad portfolio.
How did the product portfolio change from then to now?
Michael: Like I've said before: At first, our focus was on training networks. Any other products were still visions of the future. But since our portfolio has become broader and more comprehensive, our products are now used in Air Traffic Control, control rooms, studios or OB vans.
How did the variety of products influence your work?
Michael: In my opinion, flexibility has becomes more important. With growing and changing demands, you need to be able to rethink processes. In the past, I did most of the things, like repairing parts, myself.
Nowadays sometimes assemblies need to be replaced. A task only other companies can carry out, because only they have the special tools required for this. And today, I depend much more on my colleagues than in the past.
What do you think about how G&D will develop in the future?
Michael: That's difficult to say. I think that our portfolio will continue to grow and become more complex. After all,  we want to satisfy our customers' and the market's demands. That's a challenge for all of us. And I think that's a good thing.
An we're excited about it. Thank you for talking to us and sharing your experiences.