Maybe you're familiar with the following: You read a job ad that sounds too good to be true. And at a second look rather suspicious. Of course, companies can promise anything in their job descriptions. That's why we thought: why not let our new employees tell about why they applied here and how they experienced their first days at their new workplace. And that's exactly what Nicole Beck, our new accountant, Nastasja Jedlitzky, our new Junior International Sales Manager, and Maria Simmank, our new Office Manager, did.
Tell me a little bit about yourselves. How did G&D get your attention?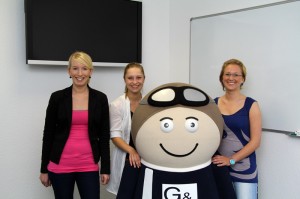 Nastasja: I saw the job ad in a local newspaper.
Nicole: Same here.
Maria: Yeah, me too.
And what made you finally apply here?
Nicole: The job description seemed quite fitting for me. That's why I just gave it a try.
Maria: For me personally, the job promised to be a chance to further develop my career.
Nastasja: I really wanted to work at an IT company. On top of this, I was impressed by G&D's comprehensive and well-designed website. The company even has a blog in German and English. And what mattered the most for me personally: there were actually even two jobs that were fitting for me.
What was your first impression of G&D?
Nicole: Like Nastasja, I was impressed by the website as well. During my job interview, I could translate my positive first impression to the executives.
Maria: When I first entered the building, I was immediately impressed by the modern and friendly atmosphere. In the entry hall, visitors and employees are greeted by a welcome screen. There's also a large break room with large supplies of coffee, tea and other soft drinks.
Nastasja: I really liked it that I met so many nice people in the first days. This really doubles the fun in working here.
Sounds great! But did you also have to face any challenges during your first days working here?
Nastasja: Phew, I'd have to say becoming familiar with the many different devices and their functions is prretty tough. It may still take some time until I know all of them by heart.
Nicole: Originally, I started working at a tax office. Most of my tasks are completely new for me since I've never worked with an ERP system before.
Maria: As certified foreign language assistant and qualified forwarding agent I only used to work at shipping companies dealing with import. Export and the associated customs tasks, which are now my main tasks at G&D, are extremely challenging topics. But until now, I've never been afraid of a challenge 🙂
Do you have any tips for future applicants?
Nastasja: I was really nervous when I arrived for my first job interview. It turned out that this was really unnecessary. So there's no need to be afraid if you apply here – everyone was really nice!
Thank you, ladies. Now I'll let you get back to your work. Have fun!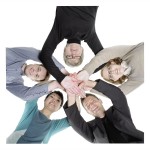 Become part of our team
Did this interview arouse your curiosity about working at G&D? Can you envision yourself working here and becoming part of our team? Then we would gladly invite you to take a look at our current job vacancies. Maybe some time soon, we will introduce YOU here in our blog.
by Bianca Schmidt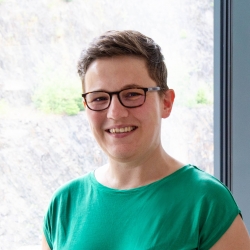 Latest posts by Bianca Schmidt
(see all)